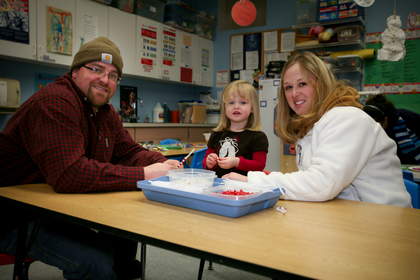 Children First!
Blandin Foundation began its commitment to increase the educational outcomes of its youngest residents in 1998, with the launch of the Children First! initiative. At that time, a coalition of 240 residents — parents, health care and human services professionals, schools and nonprofit organizations, businesses and media — identified key community resources that give children a good start to life. These include:
Parent education and support
Quality early child care and education
Accessible and affordable health care
Public awareness of the importance of early childhood care and education
Strengthening families
Work in these areas is now carried forward in the Foundation's Invest Early™ initiative. However, Children First! brought Itasca County:
Baby Steps Boutique
Located in Old Central School in Grand Rapids, Baby Steps Boutique carries children's clothing, furniture, toys, books, diapers and other items. Parents who participate in programs or activities that promote healthy families earn coupons to redeem at the boutique. Open Tuesdays 9-4 and Thursdays from 12-7. For more information call 218 326-2300 or email babystep@paulbunyan.net.
Children's Fair
Held annually in April, this day-long celebration connects parents and young children to health, education, child care and other services.
Early childhood training
Helping facilitate improved access to Early Childhood Education certification through partnerships between Bemidji State University and Itasca Community College
Guest speakers
Nationally renowned experts on early childhood and families
Step Ahead Parent Room
A parent resource center, located next door to Baby Steps Boutique in Old Central School. It offers parenting books and videos, a toy lending library and is the meeting place for educational and discussion groups.
4 Images