Jaci David
Senior Director of Programming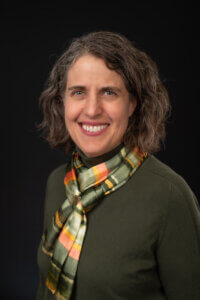 Jaci is the Senior Director of Programming at the Blandin Foundation. She oversees the Foundation's program activities, research function and leads the development and implementation of strategic initiatives.
Jaci joined the Foundation in 2011 as a member of the Public Policy and Engagement team. She developed deep expertise in community-based facilitation and project planning, having led the Foundation's work in supporting youth development systems. Jaci also provided leadership to the Foundation's initiative in support of the 2020 Census and community planning projects in our home giving area.
Jaci earned a bachelor's degree in nursing from Calvin College and a master's degree in community development from the department of resource development at Michigan State University. She worked in health care, public health and community education before joining the Foundation. She is currently a board member for Minnesota Council on Foundations, serving on the Government Affairs and Public Policy Committee.
Born in rural Iowa, Jaci was raised on a family farm. Even though she is no longer engaged in commercial agriculture, she maintains her connections to the land. She and her husband live on a hobby farm in rural Itasca County where she has a large garden; tends strawberries, blueberries and raspberries; and raises a few chickens. She has two adult children.