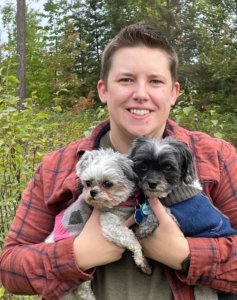 I grew up at the "end of the road" in Ely, Minnesota, hunting, fishing, and going on canoe trips. These activities instilled a connection with nature that I get from living in a rural community.
I currently live in Hill City with my two pups, Biscuit and Sierra. I love having a house in the country and being able to go outside and see the woods and nature everywhere. Fishing is my favorite activity, specifically ice fishing, and having the ability to be at a lake within minutes of home and work is just a reminder of why I live here.
I have lived in both urban and rural areas throughout my life, and I keep coming back to rural living. Rural living is its own special way of life in having a deeper connection with your community, and that community is stronger in the connections that are made with people, nature, and local activities.
My position at the Foundation is the Accountant II, and yes, I must add the II. My role is providing support for the Foundation by working on financial statements, investments, budgeting, audits, and fixed assets. Prior to being at the Blandin Foundation, I worked as an accountant and field auditor in other non-profits and government sectors. I was part of the Army National Guard for seven years. I have a bachelor's degree in Accounting & Finance from the University of Wisconsin – River Falls. I am currently in my MBA program through St. Mary's University in Winona and will graduate December 2022.
Nolan – he/him