Sonja M. Merrild
Director of Rural Grantmaking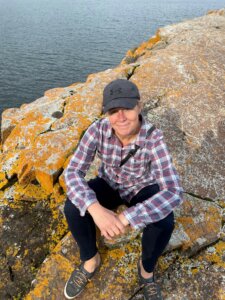 I've always had a heart for rural places; my hometown was a place of fewer than 3,000 people.  I Iove that people who live in rural often take on visible roles in their community beyond those of family or work.  It connects us to one another in multiple ways and inspires us to act for the greater good of a place.
My family history is rich with community engagement, particularly as it relates to supporting the arts, including culture bearers, makers, writers, and other creatives.  I'm grateful that my work gives me a professional platform from which to support rural leaders and doers who likewise are passionate about the place they live, or the issues they are advancing.
My professional career spans business and marketing, for-profit and nonprofit leadership, and philanthropy.
Sonja holds a Master of Arts in Philanthropic Studies from the Lilly Family School of Philanthropy and a Nonprofit Management certificate from the School of Public and Environmental Affairs, both from Indiana University – as well as two undergraduate degrees in Business Administration and Leadership Studies from Denmark and the U.S. respectively. 
Sonja M. Merrild – she/her