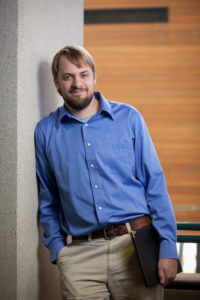 As a member of the Foundation's leadership team, Tom handles the layout and design of training materials, preparation and implementation of multimedia content and leads the production and execution of Leaders Partnering to End Poverty (LPEP) and Leadership in Ethnically Diverse Communities (LEDC). He also is responsible for alumni follow-up efforts, which include a yearly regional gathering.
Tom earned a bachelor's degree in communications from the University of North Dakota, studied graphic design at Central Piedmont Community College in Charlotte, N.C., and earned his Master of Science degree in Information Design and Strategy from Northwestern University in 2019. He has also previously volunteered as a hockey coach in the Greenway Amateur Hockey Association, art volunteer in the Greenway School District and been a contributing writer for the Scenic Range NewsForum newspaper.
As a senior in high school, Tom started his path to a career in communications by writing for the Greenway Area Newsletter. After gaining more experience as a writer and section editor for The Dakota Student while in college he was motivated to learn more about graphic design, photography and videography to start a career in public relations. After serving internships with the City of Grand Forks, Blandin Foundation and Charlotte Mecklenburg Library he found that the non-profit environment was the place where he wanted to build his career.
Tom believes a vibrant community is one that welcomes diverse people, passions and pastimes. It is a community where residents can practice a trade they love, find a variety of leisure activities to keep them fit and entertained and, most importantly, it is a place where all people feel welcome to bring their unique views and experiences to the table.