Zach Johnson
Grants Manager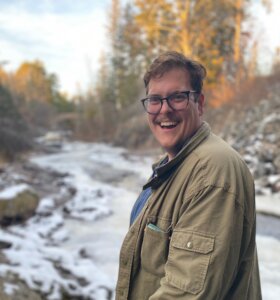 Growing up in Fergus Falls, I spent a lot of time attending Threshing Bees and Tractor Pulls with my dad, an avid tractor fanatic. Although I don't exactly share his love of all things tractor, my favorite aspects of these events are the food, people, and music. These elements, I have found, are vital to putting on a good community event. Connectedness and authenticity are values that I hold closely. Through my education and career, these values have been forged, tested, and, most importantly, celebrated.
I earned a Liberal Arts degree from M-State Fergus Falls, and later completed a Bachelor of Arts degree in Sociology at the University of Minnesota, Morris. Since then, I have worked in the nonprofit sector for over ten years, focusing on community engagement work through fundraising, advocacy, and grantmaking.
In my role at the Blandin Foundation I am responsible for administering all aspects of the grantmaking process, working with our team to create structure, manage reporting, and make sure our organization remains compliant with foundation and federal rules and regulations.
I enjoy staying busy and, having recently moved to Duluth, I find myself in awe of the natural beauty and excitement of living in a what I call a "big-small town" (I define as a large population but with the cornerstone markings of a small-town). In my spare time, I enjoy hiking, traveling, reading, and attempting to garden.
Zach – He/Him