Image: grand rapids
Check your project's fit with our eligibility guidelines and areas of focus. All prospective projects must submit an inquiry form.
Eligibility
Eligible organizations and activities are:
Be located within the State of Minnesota

Authorized by the Internal Revenue Service as having Section 501(c)(3) status, being a public agency, a tribal government entity, or a unit of government

Comply with our Anti-Discrimination Policy
   Eligible projects must:
Have a clearly defined charitable purpose recognized by the Internal Revenue Service

 

Benefit and serve rural Minnesota

 
Ineligible organizations & activities are:
Projects outside the state of Minnesota 

 

Projects that support Minnesota metropolitan areas (Minneapolis/St. Paul, Duluth, Moorhead, Rochester, St. Cloud, Mankato)

 

Religious activities

Medical research

 

Travel grants for individuals or groups

 

Camping and athletic programs

 

Ordinary government services

 

Grants solely intended to influence specific legislation or a specific candidate

 
Areas of Focus
Blandin Foundation is a strategic grantmaker. Applications from organizations working to strengthen rural Minnesota communities may be considered following the submission of an inquiry.
Blandin Foundation's most substantial and broadest form of grantmaking occurs in North-Central Minnesota (Itasca County and the neighboring communities of Blackduck, Northome, Hill City and Remer). We support work that helps meet the economic, social, physical, cultural and spiritual/wellness needs of Itasca-area residents.
Blandin Foundation welcomes inquires from organizations that:
Prioritize collaboration: diverse people and organizations work together to achieve a common goal.
Engage those needed to create the intended change: leaders seek and include a variety of perspectives, especially those directly affected by the problem.
Resourcefully build on existing community assets: community context is taken into consideration, has several sources of funding, and demonstrates community support.
Blandin Foundation offers grants to support community leaders as they think holistically and act collaboratively on systems-level (embedded policies or practices that perpetuate community inequities) issues they have identified as critical to the health and resiliency of their community.
Blandin Foundation welcomes inquires from organizations that:
Inform and connect community leaders to issues relevant among rural Minnesotans: leaders stay current on topics, trends and issues that impact their communities.
Support and sustain networks of rural leaders: leaders are equipped with skills and abilities to strengthen their communities and/or lead on diversity, equity and inclusion.
Grants support projects that improve and align education, entrepreneurship, quality employment and innovations to expand opportunity for every community member.
Blandin Foundation welcomes inquiries from organizations leading projects that:
Engage broader sections of the current or potential workforce: create or expand educational and employment opportunities, especially for youth and people who have been persistently excluded.
Use existing assets in creative ways: incorporate a community's economic strengths in new ways to innovate based on existing enterprises and cultural, creative, or natural assets.
Forge stronger relationships between education and employment systems: two or more entities work together to improve educational and employment outcomes for people living in rural Minnesota.
Steps to Apply
Step 1: Check for fit
Review the eligibility and areas of focus sections above. Please note that Blandin Foundation grants only to organizations in the state of Minnesota serving communities of 35,000 people or less. Examples can be viewed in our Partner Directory.
Step 2: Inquire first
Prior to completing a full grant proposal, you must submit a letter of inquiry, providing a short description of your project.  Inquiries are reviewed weekly.
Step 3: Anticipate deadlines
Deadlines are noted in each grant type description on the Apply page.
Step 4: Prepare your proposal
If you have been invited to submit a grant proposal, use the appropriate online or downloadable application that falls within the range of your request. If you use a downloaded application, electronic submissions are preferred and can be sent to grants@blandinfoundation.org.
Step 5: Notification
For grants $50,000 and above, Blandin Foundation program staff review all grant requests and present recommendations to the Board of Trustees, which makes the final funding decision at their meetings in March, June, September, and December. Applicants receive notification of the results within days of decision and award paid out within six weeks.
Applications for grants $50,000 and less are reviewed as they are received. You will generally receive an acknowledgment within a week and a decision within 30-45 days.
Step 6: Feedback
Blandin Foundation program staff are always trying to improve their grantmaking. Constructive feedback, both positive and negative, are welcome by calling 218-327-8724, emailing grants@blandinfoundation.org or leaving a review on GrantAdvisor.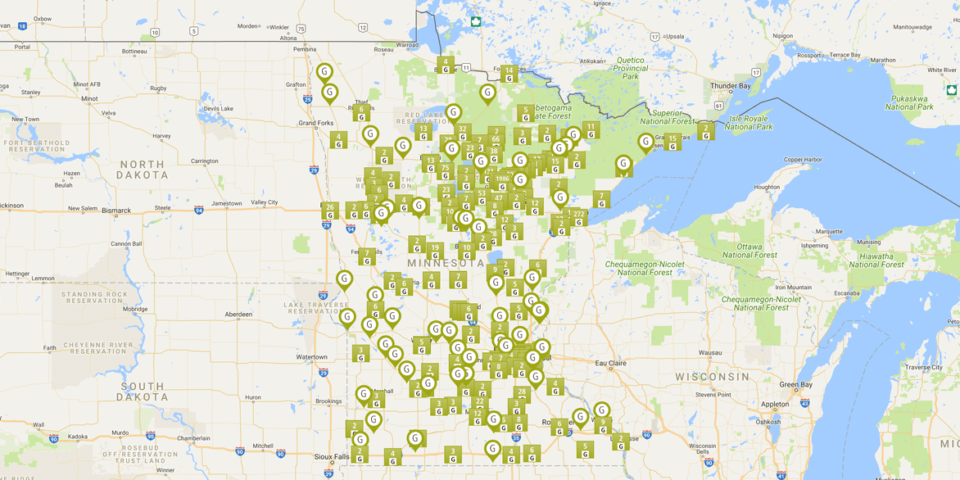 Spot Us
Wondering what we have funded in the past? This interactive map gives you a clear picture of grants paid. Click on the map pins for specific grants, or create your own search.
Contact Us
Your feedback strengthens our grantmaking. Contact us to share your thoughts. You may also subscribe to our mailing list, or contact the following Grants team members.