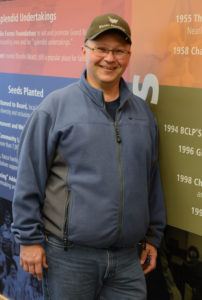 As the Foundation's facilities coordinator, Tim handles all aspects of facilities management, groundskeeping and maintenance to keep staff and guests comfortable and secure. This includes overseeing and maintaining HVAC systems, security systems and custodial services. He served as the key point of contact for all contractors during the Foundation's recent building renovation. He also is a key contact for groups that use the Foundation's meeting spaces, and assists with room set-up, tech equipment support – and he keeps the coffee on!
Prior to joining the Foundation, Tim worked at the United Way of 1000 Lakes and in various office roles at other organizations. He holds a bachelor's degree in management, as well as a boiler engineers license.
He is active in his church, and has been involved in numerous Itasca area nonprofits, including serving on the board of the Community Café. He lives in Cohasset and enjoys spending time with his family, especially grandchildren.
He sees vibrant rural communities as places with healthy, happy families and opportunities for everyone.