Image: LostForty_BirchPinestand
Information on the ways we have stood with our home community for more than 75 years.
Blandin Foundation's primary geographic focus is Itasca County (north central Minnesota) and a few neighboring communities. This region was the "wood basket" of the Grand Rapids-based Blandin Paper Company when it was owned by Foundation founder Charles Blandin in the early 20th Century.
While no longer legally connected in any way with the paper company, the communities of Itasca County continue to be the focus of the majority of the Foundation's resources. Blandin Foundation work and giving in the area supports a wide spectrum of partners and initiatives focused on the vibrancy of these communities and the organizations strengthening them.
Blandin Foundation is the largest rural-based and rural-focused private foundation in Minnesota and one of only a handful nationally. The Foundation provides approximately $10 million in grants each year and nationally recognized leadership development, broadband and other programs.  The Foundation also convenes rural community leaders around critical issues such as student success, inclusion and economic development. See the Transparency page for more information.
The Foundation's primary focus is on its partnerships with its "home communities" of Bigfork, Blackduck, Bovey, Calumet, Cohasset, Coleraine, Deer River, Effie, Goodland, Grand Rapids, Hill City, Keewatin, LaPrairie, Marble, Marcell, Nashwauk, Northome, Pengilly, Remer, S. Lake, Taconite, Talmoon, Warba, Wawina, Wirt, and Zemple. Visit the Grant Lists page for lists of recent grants and news about grants awarded in the Itasca area.
Rural Pulse survey - Itasca area report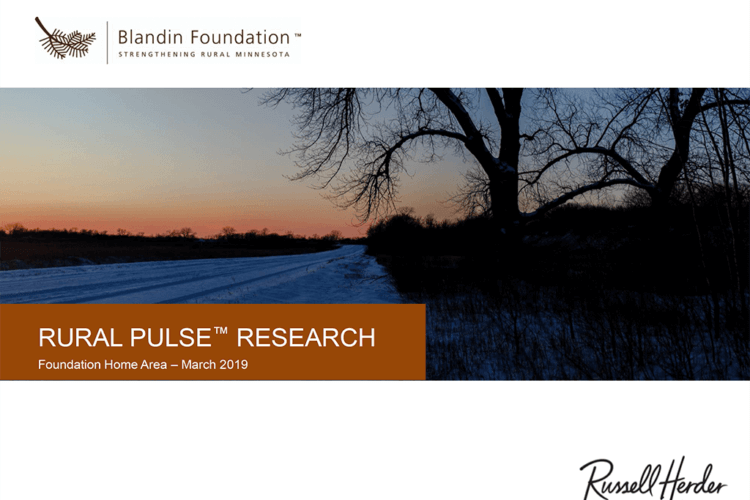 Contact Us
Your feedback strengthens our commitment to the Itasca area. Contact us to share your thoughts. You may also subscribe to our mailing list, or contact the following staff members.