Thank you for your interest in our meeting space. Our meeting room is currently closed.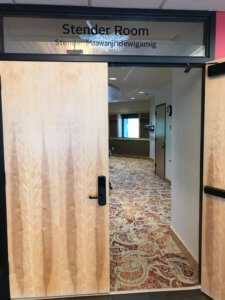 Stender Maawanji'idiiwigamig
(Pronounced: Mawunji'idee-wigumig)
To meet together. Name also honors trustee emeritus Bruce Stender
Availability
Monday – Thursday 8:00 a.m. to 9:00 p.m., Friday from 8:00 a.m. to 4:30 p.m.
Recent grantees, nonprofits, philanthropies and government entities can book our community meeting room.
Reservations required. Contact Melissa Johnson, below.
Stender Community Room can accommodate up to 80 people, with flexible table and seating arrangements. The room has a full suite of technical equipment: wireless internet access, large-screen monitor with laptop hook-up, DVD player and speakers, and conference phone. Coffee is provided. Other food and beverages are the responsibility of the group hosting the meeting (no alcoholic beverages allowed).
Users are responsible for room set-up, basic clean-up and making arrangements for food or beverages.
We allow limited burning of ceremonial tobacco/smudging. Please let our hospitality staff know if you plan to have this as part of your meeting at least 2 days before the meeting.
Contact Us
For questions or to check room availability, contact Melissa Johnson at 218-326-0523.