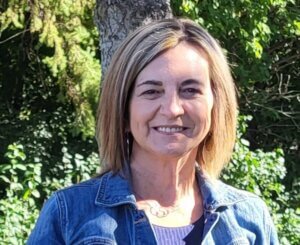 Missy (she/her/hers) is the primary point of contact for staff and guests entering the Foundation.  Her position helps ensure staff and guests experience the Foundation as a space that is fully inclusive, where creativity and innovation can flourish. You may see Missy not just as you enter the building but in community helping to build, enhance and maintain positive relationships with community leaders in our home giving area.
Missy holds an associate's degree from Itasca Community College, and a bachelor's degree in business administration with minors in human resources and leadership from The College of St Scholastica.  Missy has been with the Blandin Foundation since 2006 and worked in the not-for-profit sector prior to that.
Missy loves her home community and loves living in rural, enjoys family and friends and staying connected. You may see Missy around in community as she loves being active with people and considers herself blessed to make many friends along the way.  "I am blessed to not just love this personally, but get to fulfill this on a professional level as well," she said.  Missy enjoys her family, has two grown children and loves being a grandma to some amazing grandchildren.