Image: AyushiPatel_2
Scholarship Voice: Ayushi Patel
Ayushi Patel: Full-circle living and serving in rural Minnesota
Ayushi's life has taken her across continents and across the U.S. Yet she has remained grounded in rural north-central Minnesota, where she  now lives and works
To my family. Thank you for being my number-one support system through every stepping stone of my life. It is because of you that I have learned to be grateful for all the opportunities that come my way and confident in my capabilities to accomplish my dreams.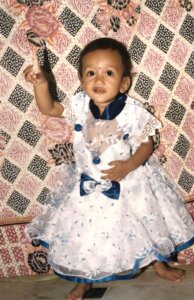 My story starts in the city of Anand, Gujarat, India, where I was born and gained my pre-school education. Flash-forward three years, my family and I immigrated to the United States, with our first stop being Sauk Centre, Minnesota. Here I gained my first taste of American culture, at first it was a bit hard to adjust to such a different country, even as a three-year-old, but with time I was able to find a niche of my own, within my school. This was my first stepping stone here in the United States where I was able to learn a lot from my peers and teachers, and for the first time, this ignited a spark within me to do my best in every scenario.
As time continued, I moved around the country with my family due to my parents' work, but as destiny would have it, we made a full circle and moved back to Blackduck, Minnesota, in the summer of 2011. I started in sixth grade and stayed at Blackduck elementary and high school, graduating in 2018 with honors and as the vice president of the National Honor Society. During this time, I was able to receive many opportunities through my educational journey, along with some very interesting and fun extracurriculars. My passion for education grew during my journey at Blackduck, it was here that I understood the true meaning of believing in oneself and the service of others.
As an 18-year-old girl, I was determined to take this spark of mine and do the best I could to impact the world positively through my knowledge and work. But to be able to do this, I would first need to understand myself and my exact goals deeply, which is what led to my decision to go for my bachelor's degree and apply for the Blandin Foundation Scholarship.
Throughout my journey at Minnesota State University-Mankato (MNSU), having the support of the foundation helped me to be patient with my path and try new things academically. I took the biggest leap of faith of my life right in the middle of the COVID-19 pandemic, which was switching my major of study from Biotechnology to Computer Information Science. As nervous as I was about this change, I found that I had been even more excited about the possible opportunities that may come my way through this.
With the grace of God, I was able to get my first tech job one-and-a-half years later at our campus help-desk, where I made valuable connections and learned so many new things. While continuing my education full-time, I continued to grow interested in many avenues within tech. In my last year of college, I attained two internships at the same time. The first was a software development internship with DXC Technology, and the second was an information security analyst internship at MNSU. Both opportunities have taught me a lot academically and professionally.
I also started a small business called Stomper Grounds with a team of 14 of my peers. This business was a success, and I was able to attain a certificate of integrated business from MNSU as well, and graduated with my Bachelor's of Science in 2022 with senior honors and a leadership award.
I am currently working with First National Bank of Bemidji as their Information Security Specialist. I hope to use the knowledge and experiences that I have built, to be able to serve my community to the best of my abilities.
Lastly I would just like to say to any small-town girl or boy out there who may be reading this, I just ask you to believe. Believe in yourself and your dreams, and with this, your path to accomplishment will lay itself out in front of you without you even knowing.  I have faith in my journey, and that this is only the beginning. Here's to many more stories, learnings, and experiences of a lifetime.