Image: Blog hero Plant Plate 09 boys dig in
GroundWork
News and ideas you can use to strengthen rural Minnesota communities.
Story (re)tellers: Reservation leaders take a fresh look at self, community to boost resiliency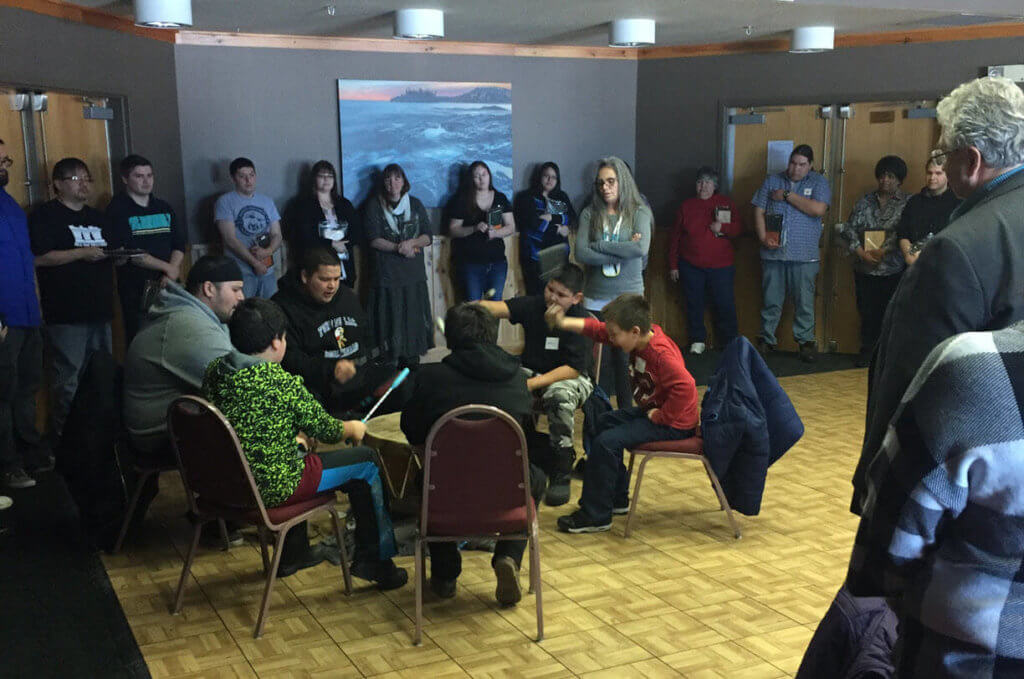 The Bois Forte, Fond du Lac, Grand Portage BRCLP cohort wrapped up its final workshop and celebrated the 25th cohort with three honor songs by the Fond du Lac Ojibwe School Drum. The group joins more than 600 alumni of the program across the state. Group members learn individual leadership skills in a culturally relevant setting and explore ways to apply them in their own community work.
by Jennifer Bevis Posted in Rural Capacity Building, Vibrant Rural
On a recent afternoon, about 65 people from reservation communities in northeast Minnesota came together to celebrate the commencement of the 25th cohort to complete the Blandin Reservation Community Leadership Program. In recognition of this milestone number, a drum was invited to join the celebration and honor the graduates.
BRCLP is more than just a replica of the Foundation's well-known Blandin Community Leadership Program (BCLP). It is a thoughtfully crafted training opportunity that provides deeper learning about individual and community strengths, techniques for building social capital and mobilizing resources and power within the framework of Native American cultures, both Ojibwe and Dakota. It aims to leverage leaders' personal strengths and community assets they can rely on and grow forward from. The group gathered on the North Shore joins more than 600 community leaders from Minnesota's 11 Native American tribal communities as BRCLP alumni.
The program, created in the late 1990s, was a calculated stretch for the Foundation.
"We recognized it was to some extent risky business to invest so much in a separate-yet-equal, but different, type of training program," said Kathy Annette, current Blandin Foundation CEO who sat on the Foundation's board during development of the curriculum.
The dividends have been clear since day one.
"I remember sitting in the training room that first day, looking around and saying, 'Wow! For us! Look who is here, and what skills we will build. We can truly do this. It is good!'" Annette recalls.
Cultural relevancy brings participants' life experiences into the training in authentic, respectful ways.  It recognizes that all communities have unique strengths, opportunities and needs.  An intentional focus on cultural resiliency is one way BRCLP strives to be more culturally relevant. Participants are encouraged to claim their stories of resilience, success and strengths. They claim their own gifts and talents, as well as the resources that exist in their communities to help them build and sustain healthy communities.
"We teach that communities live into the stories they tell themselves about who they are and how they are," Shangreaux said. "This provides a way for people to notice what stories they are hearing and telling now, and to see opportunities to change that narrative."
The power in that change is palpable for seasoned and young leaders.
"Whether you believe in the Great Spirit, or God…each of us has been given gifts, and I think that some of us have been given the gift of leadership," said Barb Brodeen, a member of the 2009 BRCLP cohort that served Bois Forte. "We are to use that to the best of our ability, and so that's what I try to do, every day."
"I was definitely one of the youngest participants [in my cohort]," said Brianne Peterson, another 2009 alumna from Bois Forte. "I was leery, because I didn't see myself as a leader. [But] I began to realize that I have really great potential to become a leader…who can bring about a whole new type of change."
Youthful spirit and confidence is something Annette and Shangreaux would love to see more of in future groups.
"We know folks in their 20s shoulder a lot of responsibilities," Annette said, "But their enthusiasm and vision are crucial to setting a course for the future of Native communities. And the skills they gain will impact their communities for literally decades."
Stronger connections among leaders within communities build, over time, a supportive environment for leaders to identify a community's opportunities and challenges and sculpt solutions: schools, animal shelters, tribal government buildings, and more. Clustering reservation communities in each BRCLP cohort provides leaders with opportunities to connect on topics they share in common such as health care, economic development, and sovereignty.
Alumni from BCLP and BRCLP communities also are sharing insights about communities they have in common, as the conversation between the Redwood Falls area and the Lower Sioux reservation communities is designed to do. Annette views work like this as key steps of an important journey rural communities are on together.
"They are grappling with the question of: We both live in the same place, the same space. How can we recognize each community and its strengths and challenges," she said. "We applaud their courage and candor. Those are deep and powerful conversations."
Want to hear more about BRCLP from Barb and Brianne? Jump to 23:51 in this video about Blandin leadership programs.
Sign Up for E-News
Subscribe to our periodic newsletter for updates and opportunities about vibrant rural Minnesota.