Table of goal data by year
Year
25/3 Mbps
100/20 Mbps
2020
#40 of 87
85.36%
#43 of 87
77.81%
2019
#61 of 87
78.33%
#40 of 87
77.91%
2018
#49 of 87
77.95%
#83 of 87
14.13%
2017
#29 of 87
88.35%
#37 of 87
55.6%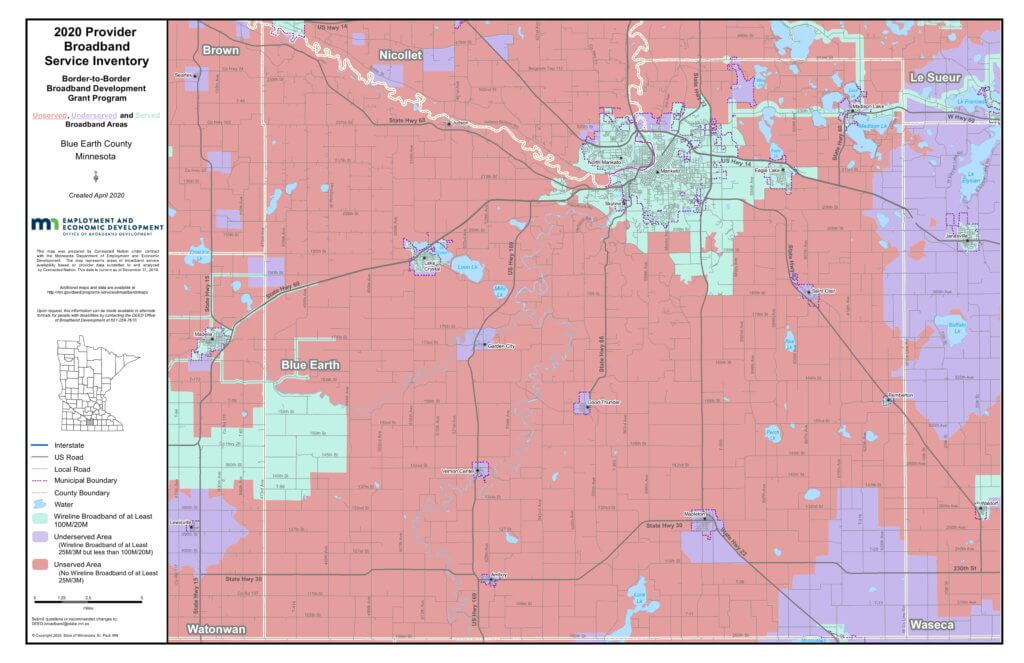 Rank: 42 (out of 87) for access to 100/20 megabits per second (Mbps)
Between 2017 and 2018, Blue Earth County's broadband access increased substantially but their ranking has remained stagnant since then. They continue to investigate avenues for improvement; the most recent feasibility study (Jan 2020) indicates that it would be expensive to install fiber. However, a local letter to the editor seems to indicate that at least some residents are ready to move forward. We'll have to see if they have applications in the most recent Border to Border grant round (which closes Sep 30, 2020) and if they are successfully funded.
What we learned in the past:
In 2017, Blue Earth's broadband access was deemed non-competitive for business by the FCC. Last year, we noted that Blue Earth County was in danger of not making either the 2022 or 2026 MN speed goals. There were some anomalies, but we've moved past to get a consistent picture. It's not as dire as non-competitive, but signs point to not making the speed goals.
At the end of 2018, Blue Earth County Board resolved to kickstart efforts to bring more broadband options and data fiber connections to the area. In April 2019, they were awarded funding from the Blandin Foundation for a broadband feasibility study, which has been used to help support applications to the state broadband grant program but those applications to date have been unsuccessful.
Update from 2020:
Early in 2020, Blue Earth County unveiled their feasibility study, which included a tough message: If Blue Earth County wants to have rural broadband internet, it's going to have to pay a potentially unworkable amount of money.
According to the study, it could cost more than $35 million to install 1,067 miles of fiber to connect all rural areas of Blue Earth County, excluding the Mankato area and larger cities such as Lake Crystal and Madison Lake. A combination of wireless networks and fiber, about 161 miles in total, would cost about $11 million to install.
Despite the cost, there was a subsequent local letter to the editor that indicated that residents were prepared to invest: "In these times where rural America is being left behind, according to certain politicians, it seems there would be some kind of push to subsidize rural broadband or require some telecom and broadband providers to contribute to a development fund. Broadband is to the 2020s what rural electricity was to the 1930s. We know rural America got its electricity. Now it needs its broadband."
These comments were made before the pandemic.
Part of Blue Earth County was served by Jaguar, which was acquired by MetroNet in July (2020). MetroNet claims they will invest $150 million to grow their Minnesota market.
Find more articles on broadband in Blue Earth County.
Households with Device Access
Computer
91.6%
90.3%
statewide
Desktop or Laptop
84.6%
81.1%
statewide
Smartphone
77.0%
76.5%
statewide
Tablet
53.7%
59.3%
statewide
Has Worked with Blandin Foundation
Yes
Has Received MN Grant(s)
Yes
Government Districts
U.S. Congress: CD 1
MN Senate: 19, 23
MN House: 19A, 19B, 23A, 23B