Table of goal data by year

| Year | Rank | 100/20 Mbps |
| --- | --- | --- |
| 2022 | #41 of 87 | 81.88% |
| 2021 | #40 of 87 | 80.76% |
| 2020 | #43 of 87 | 77.81% |
| 2019 | #40 of 87 | 77.91% |
| 2018 | #83 of 87 | 14.13% |
| 2017 | #37 of 87 | 55.6% |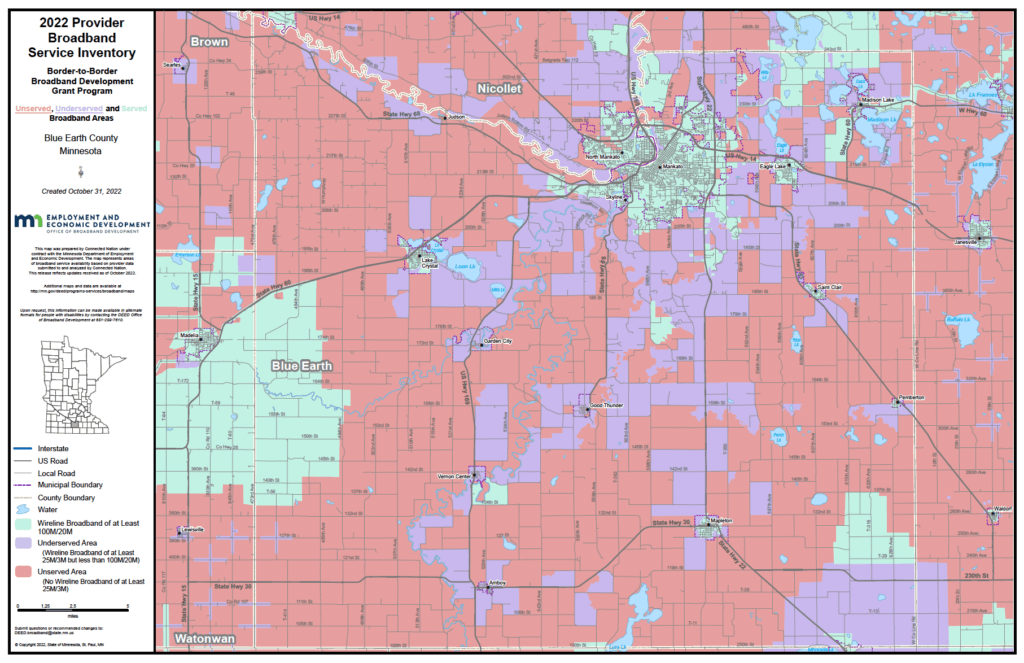 Rank: 41 (out of 87) for access to 100/20 megabits per second (Mbps)
Blue Earth County ranks 41 for broadband access and 84 for digital equity out of 87 counties. They have seen incremental increase to 81.88 percentage access to 100 Mbps down and 20 up since 2019. They have 5285 households without access to broadband at that speed. Estimates indicate that it will cost $49.1 million to get to ubiquitous broadband in the county.
Blue Earth may see improvements through a fiber deployment Fidium Fiber, part of Consolidated Communications. Deployment to 10,000 homes will happen in Blue Earth, Nicollet, and Le Sueur counties – unless it already has. It's difficult to tell if that upgrade would have been seen in the mapping done in October.
Blue Earth County saw a big leap in access in 2019. Since then they have been stagnant. But in  2020, they unveiled a feasibility study that said it could cost more than $35 million to install 1,067 miles of fiber to connect all rural areas of Blue Earth County, excluding the Mankato area and larger cities such as Lake Crystal and Madison Lake. A combination of wireless networks and fiber, about 161 miles in total, would cost about $11 million to install.
Blue Earth gets a yellow code because they have a feasibility study to act as a roadmap to improvement. Also computer ownership and digital equity rank indicate that local residents would be in a position to get engagement when they start feeling the pinch of inadequate broadband.
Digital Equity:
Blue Earth County ranks 18 out of 87 for digital equity. (See full Digital Equity Profile)
Blue Earth County ranks 10 out of 87 for computer ownership. 95.8 percent of homes have a computer of device as compared to statewide ownership of 95.5 percent.
Households with Device Access
A Device
91.6%
95.5%
statewide
Desktop or Laptop
84.6%
83.2%
statewide
Smartphone
77.0%
90.1%
statewide
Tablet
53.7%
65.8%
statewide
Has Worked with Blandin Foundation
Yes
Has Received MN Grant(s)
Yes
Government Districts
U.S. Congress: CD 1
MN Senate: 15, 18, 22
MN House: 15B, 18A, 18B, 22A, 22B