Table of goal data by year

| Year | Rank | 100/20 Mbps |
| --- | --- | --- |
| 2021 | #40 of 87 | 80.76% |
| 2020 | #43 of 87 | 77.81% |
| 2019 | #40 of 87 | 77.91% |
| 2018 | #83 of 87 | 14.13% |
| 2017 | #37 of 87 | 55.6% |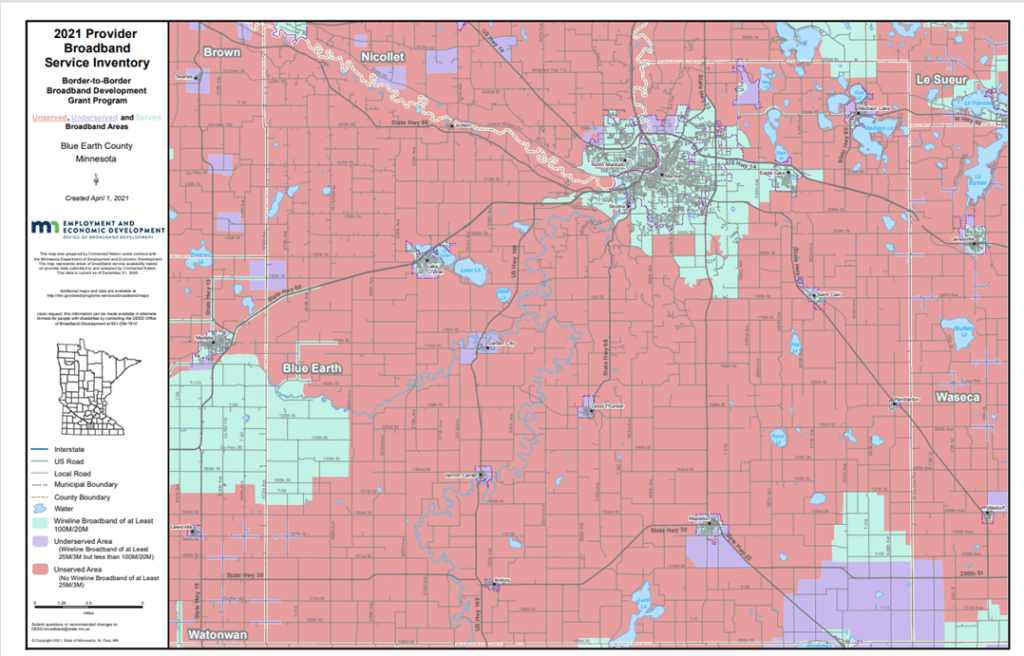 Rank: 40 (out of 87) for access to 100/20 megabits per second (Mbps)
Blue Earth County saw a big leap in access in 2019. Since then they have been stagnant, although they saw a small increase this year, getting them over 80 percent.
In 2020, they unveiled a feasibility study that said it could cost more than $35 million to install 1,067 miles of fiber to connect all rural areas of Blue Earth County, excluding the Mankato area and larger cities such as Lake Crystal and Madison Lake. A combination of wireless networks and fiber, about 161 miles in total, would cost about $11 million to install.
That feasibility study gives them a blueprint of plans to use to apply for federal funding being made available post- pandemic, including the Capital Project Funding and American Rescue Plan (ARP). Projection for allocation of ARP funds in Blue Earth is $13,120,883; broadband is one possible use. Working on the feasibility indicates a renewed community focus on broadband. That is why their ranking is bumped from red to yellow.
Past Grants: none
Find more articles on broadband in Blue Earth County. (http://tinyurl.com/j5pe9kr)
Households with Device Access
Computer
94.3%
93.6%
statewide
Desktop or Laptop
83.8%
80.6%
statewide
Smartphone
6.6%
7.7%
statewide
Tablet
57.8%
63.8%
statewide
Has Worked with Blandin Foundation
Yes
Has Received MN Grant(s)
Yes
Government Districts
U.S. Congress: CD 1
MN Senate: 19, 23
MN House: 19A, 19B, 23A, 23B