Table of goal data by year

| Year | Rank | 100/20 Mbps |
| --- | --- | --- |
| 2021 | #11 of 87 | 97.75% |
| 2020 | #8 of 87 | 97.42% |
| 2019 | #7 of 87 | 97.56% |
| 2018 | #40 of 87 | 64.89% |
| 2017 | #32 of 87 | 64.18% |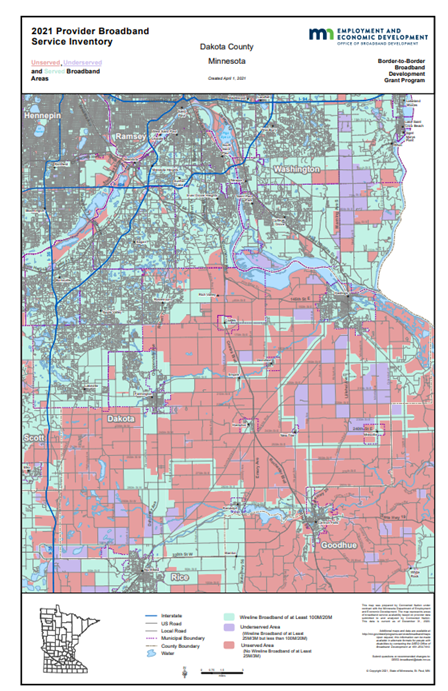 Rank: 11 (out of 87) for access to 100/20 megabits per second (Mbps)
Dakota County has a broadband board and staff who focus on creating better broadband. Last year, Charter received a Border to Border state grant to upgrade broadband in Dakota County and County Commissioners recently approved the use of CARES Act funding on broadband improvement.
A recent report from the Institute for Local Self Reliance points out Dakota County has succeeded because of policies conducive to collaboration and reinvestment, with the result being a host of benefits which includes significant public savings for internal operations and better connections for community anchor institutions. However, residential access isn't as good as it could be. Dakota's next challenge is to leverage its network to bring much more investment to areas without broadband availability or areas with only one high-speed ISP.
The Dakota Broadband Board released a report in July (2021) on the state of broadband, noting that over 17 miles of fiber were added to the network as a result of DBB projects in 2020. And they outlined plans for the future.
Projected allocation of American Recovery Project ARP funds in Dakota is $83,205,981; broadband is one possible use.
Dakota County will benefit from a MN State Grant awarded in 2021:
Nuvera Communications, Inc. – Webster Rural FTTP – GRANT $431,260
This last mile project will serve 103 unserved and 178 underserved locations in Wheatland and Webster townships in Rice County, Eureka and Greenvale townships in Dakota County, and New Market and Cedar Lake townships in Scott County.
Having a plan and a strong history of success, it seems likely that they will get some funding for broadband and that is why they are getting a code green.
Find more articles on broadband in Dakota County. (http://tinyurl.com/hxslue9)
Households with Device Access
Computer
94.7%
93.6%
statewide
Desktop or Laptop
86.9%
80.6%
statewide
Smartphone
3.4%
7.7%
statewide
Tablet
68.5%
63.8%
statewide
Has Worked with Blandin Foundation
No
Has Received MN Grant(s)
Yes
2020: Charter Communications – Rosemount North Project – GRANT $499,072
2020: Dakota County approved $800,000 in CARES Act funding for broadband.
Government Districts
U.S. Congress: CD 2
MN Senate: 51, 52, 54, 56, 57, 58
MN House: 51A, 51B, 52A, 52B, 54A, 54B, 56A, 56B, 57A, 57B, 58A, 58B