Table of goal data by year
Year
25/3 Mbps
100/20 Mbps
2020
#14 of 87
98.31%
#8 of 87
97.42%
2019
#13 of 87
98.46%
#7 of 87
97.56%
2018
#12 of 87
97.54%
#40 of 87
64.89%
2017
#15 of 87
98.47%
#32 of 87
64.18%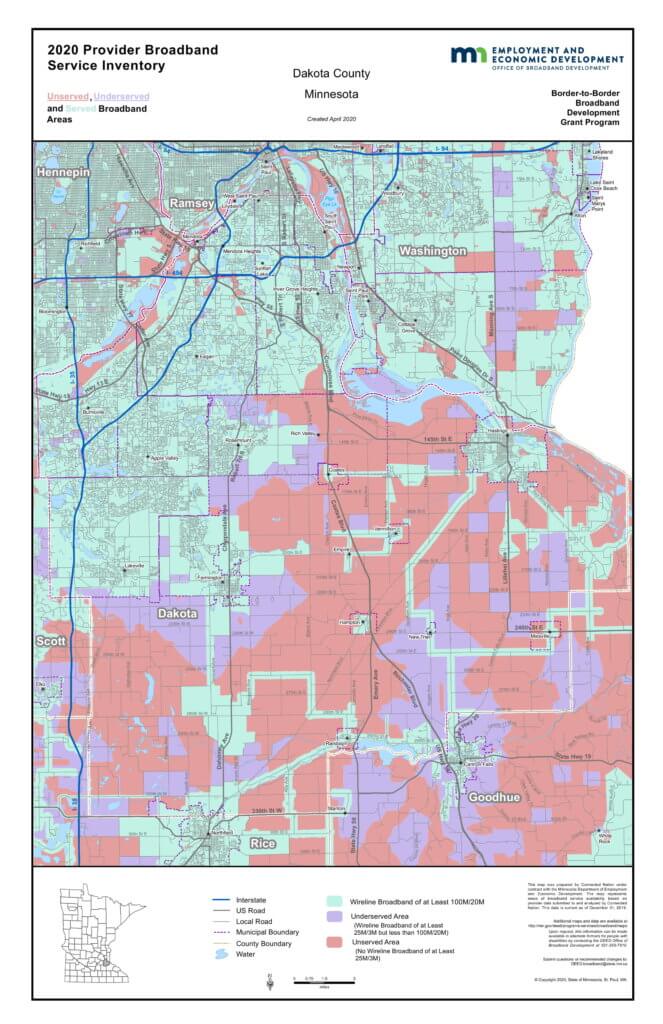 Rank: 8 (out of 87) for access to 100/20 megabits per second (Mbps)
Dakota County has been planful in their building of local broadband. They deployed infrastructure for a government network, leaving excess capacity for residential use. They have a county board focused on broadband that leads an initiative to improve access and use. Charter received a Border to Border grant to upgrade broadband in Dakota County and County Commissioners recently approved the use of CARES Act funding on broadband improvement.4
What we learned in the past:
Dakota County built a public network that connected government buildings and then opened up the network to third party providers. Also, they benefit from being a metro county with higher population density, which makes it easier for broadband providers to make a business case to offer faster services. But the county is not entirely urban, so they have some underserved areas.
Update from 2020:
Dakota County has a Board that focuses on broadband. They meet reguarly and have a plan for leveraging excess bandwidth from their government network (which includes 320 miles of fiber) to serve residents. Since the last broadabnd profile, Charter received a Border to Border grant that will help serve Rosemount in Dakota County:
Charter Communications – Rosemount North Project – GRANT $499,072
This middle and last mile project will upgrade approximately 40 unserved and 225 underserved locations in northwestern Rosemount in Dakota County. In a funding partnership with the State of Minnesota and Dakota County, Charter Communications will improve broadband service levels up to 940 Mbps download and 35 Mbps upload, exceeding the 2022 and 2026 state speed goals. Project area residents have been actively engaged in an effort to improve broadband service offerings in their neighborhood.
Total eligible project cost is $998,144
Local match is $499,072
More recently, Dakota County approved $800,000 in CARES Act funding for broadband.
Find more articles on broadband in Dakota County.
Households with Device Access
Computer
94.1%
90.3%
statewide
Desktop or Laptop
87.5%
81.1%
statewide
Smartphone
82.3%
76.5%
statewide
Tablet
66.0%
59.3%
statewide
Has Worked with Blandin Foundation
No
Has Received MN Grant(s)
No
Government Districts
U.S. Congress: CD 2
MN Senate: 51, 52, 54, 56, 57, 58
MN House: 51A, 51B, 52A, 52B, 54A, 54B, 56A, 56B, 57A, 57B, 58A, 58B