Table of goal data by year

| Year | Rank | 100/20 Mbps |
| --- | --- | --- |
| 2022 | #50 of 87 | 77.71% |
| 2021 | #61 of 87 | 71.99% |
| 2020 | #69 of 87 | 60.3% |
| 2019 | #75 of 87 | 43.02% |
| 2018 | #65 of 87 | 39.93% |
| 2017 | #55 of 87 | 39.93% |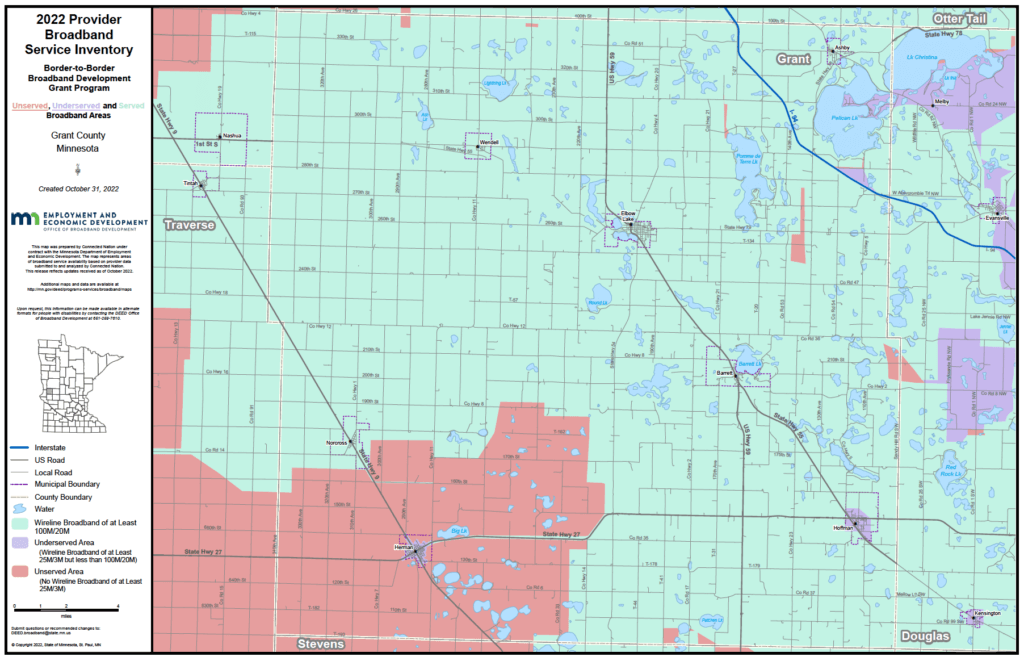 Rank: 50 (out of 87) for access to 100/20 megabits per second (Mbps)
Grant County ranks 50 for broadband access and 33for digital equity out of 87 counties. They have seen steady progress since 2018 leading to 77.71 percent coverage to broadband of 100 Mbps down and 20 up in 2022. They have 703 households without access to broadband at that speed. Estimates indicate that it will cost $6.5 million to get to ubiquitous broadband in the county.
They will benefit from a border to border grant announced in December 2022:
Runestone Telephone Association, $2,493,637.00 (to serve Grant, Stevens and Traverse counties)
Grant County is one of the few that I hear little about throughout the year; yet they increased access by more than 10 percent last year and this year. In fact, they saw the one of greatest increases in county ranking this year! Up 11 places! That is why their code has changed from red to yellow. One concern is their high percentage of households with access to 25/3; that means that some households with lesser digital equity interest will be satisfied with poorer access, at least for now. But they have a momentum going and hopefully that will help them continue to see changes.
Digital Equity:
Grant County ranks 49 out of 87 for digital equity. (See full Digital Equity Profile)
Grant County ranks 33 out of 87 for computer ownership. 91.7 percent of homes have a computer of device as compared to statewide ownership of 95.5 percent.
Households with Device Access
A Device
86.9%
95.5%
statewide
Desktop or Laptop
74.6%
83.2%
statewide
Smartphone
71.9%
90.1%
statewide
Tablet
52.7%
65.8%
statewide
Has Worked with Blandin Foundation
No
Has Received MN Grant(s)
Yes
Government Districts
U.S. Congress: CD 7
MN Senate: 09
MN House: 09A