Table of goal data by year
Year
25/3 Mbps
100/20 Mbps
2020
#31 of 87
88.22%
#69 of 87
60.3%
2019
#40 of 87
87.85%
#75 of 87
43.02%
2018
#33 of 87
87.85%
#65 of 87
39.93%
2017
#47 of 87
75.73%
#55 of 87
39.93%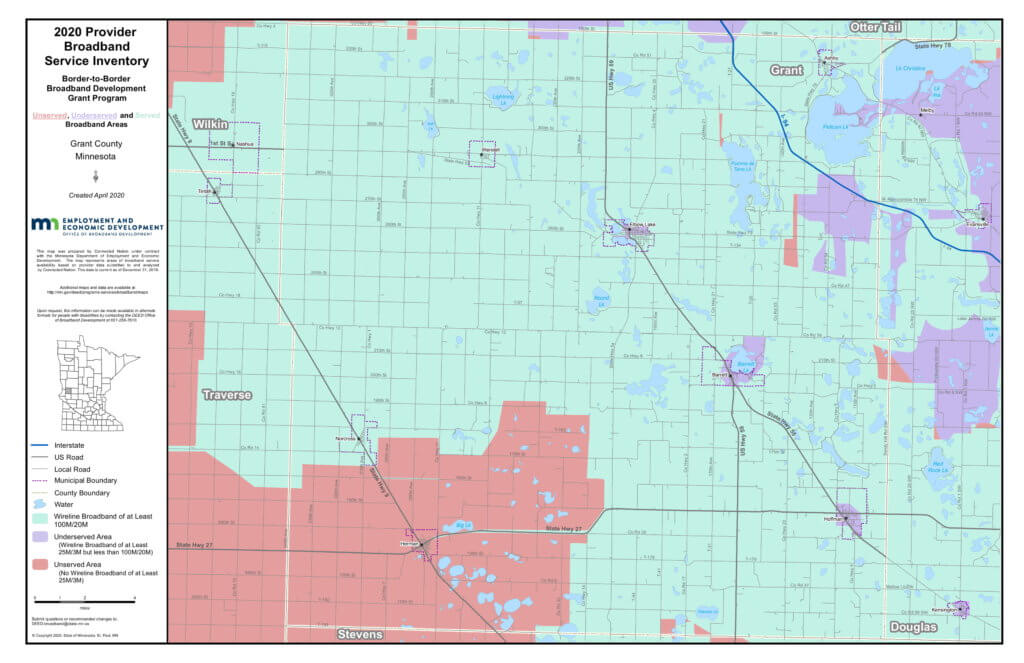 Rank: 68 (out of 87) for access to 100/20 megabits per second (Mbps)
Grant County is not on track to meet the 2026 speed goals. We don't hear much from them, which might be an indicator that they need to get more engaged if they want to get ubiquitous broadband.
What we learned in the past:
Last year, Grant County was in a precarious position for two reasons: more than 10 percent of the county was unserved and more than 50 percent is underserved. This has an impact on what kind of homework teachers can assign, the ability to start a home business and home resale value.
Update from 2020:
Nothing new to report.
Find more articles on broadband in Grant County.
Households with Device Access
Computer
86.9%
90.3%
statewide
Desktop or Laptop
74.6%
81.1%
statewide
Smartphone
71.9%
76.5%
statewide
Tablet
52.7%
59.3%
statewide
Has Worked with Blandin Foundation
No
Has Received MN Grant(s)
No
Government Districts
U.S. Congress: CD 7
MN Senate: 12
MN House: 12A