Table of goal data by year

| Year | Rank | 100/20 Mbps |
| --- | --- | --- |
| 2021 | #87 of 87 | 26.24% |
| 2020 | #87 of 87 | 26.41% |
| 2019 | #84 of 87 | 26.93% |
| 2018 | #67 of 87 | 38.54% |
| 2017 | #68 of 87 | 26.07% |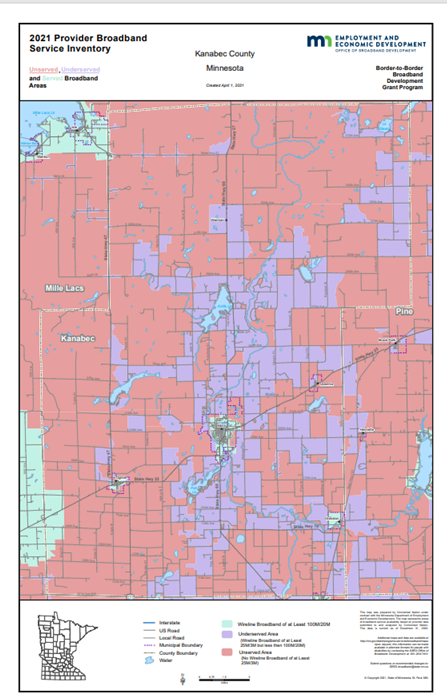 Rank: 87 (out of 87) for access to 100/20 megabits per second (Mbps)
In October, I was in a meeting with folks from Kanabec County, and again just last month in the MN Broadband Task Force, because they are constantly working on better broadband. As someone said, sometimes it's been to be lucky than good. They are living that. A team from Kanabec has been working with the Blandin Accelerate program, which has been helping them learn and act for better broadband.
Much of the County is served by one large national provider. That may be a bottleneck to better access in those areas, because as we have noted in the past, lack of competition can impact the drive for improvement.
Projected allocation of American Recovery Project ARP funds in Kanabec is $3,168,461; broadband is one possible use.
The community of Kanabec deserves better than code red. Their situation is outside of their control in many ways. Perhaps they will choose to use more ARP funding to partner with a provider; that would help. Their code red status will help them explain the severity of their standing to policymakers.
Find more articles on broadband in Kanabec County. (http://tinyurl.com/gvyes6n)
Households with Device Access
Computer
85.9%
93.6%
statewide
Desktop or Laptop
70.7%
80.6%
statewide
Smartphone
8%
7.7%
statewide
Tablet
50.9%
63.8%
statewide
Has Worked with Blandin Foundation
Yes
Has Received MN Grant(s)
Yes
2016 – BENTON COOPERATIVE TELEPHONE COMPANY BOCK – GRANT: $510,000
Government Districts
U.S. Congress: CD 8
MN Senate: 11, 15
MN House: 11B, 15A