Table of goal data by year
Year
25/3 Mbps
100/20 Mbps
2020
#83 of 87
60.75%
#87 of 87
26.41%
2019
#79 of 87
66.05%
#84 of 87
26.93%
2018
#73 of 87
67.07%
#67 of 87
38.54%
2017
#84 of 87
34.04%
#68 of 87
26.07%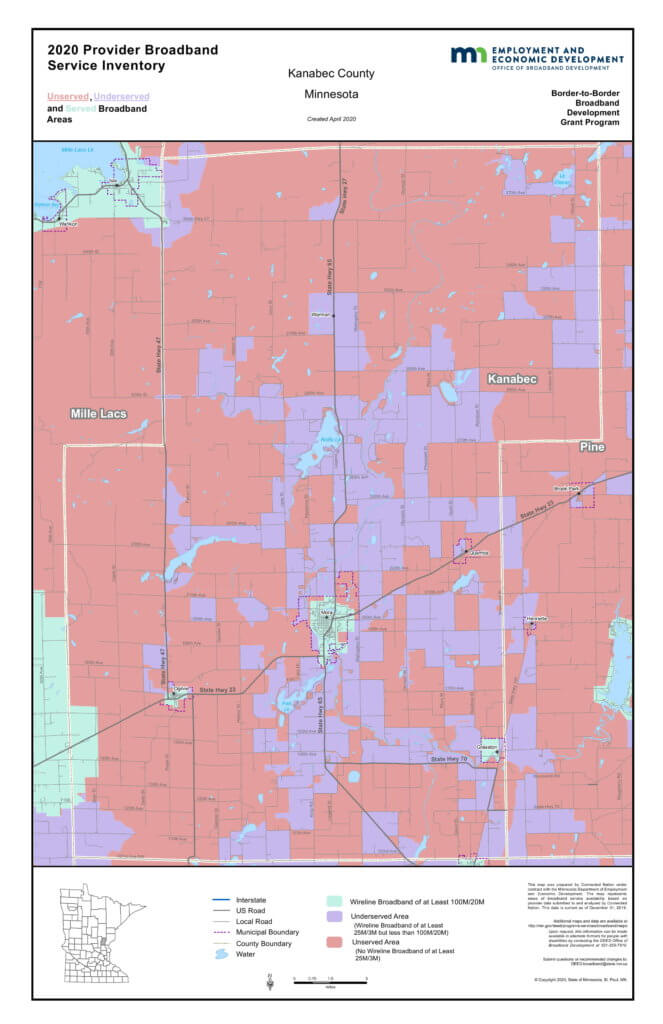 Rank: 87 (out of 87) for access to 100/20 megabits per second (Mbps)
The Kanabec Broadband Initiative has been working on better broadband for years. Last year we saw that much of the County is served by one large national provider. That may be a bottleneck to better access in those areas, because as we noted last year, lack of competition can impact the drive for improvement.
COVID has exacerbated the situation of mixed access in Kanabec County. Some students were able to access school work at home during the pandemic shutdown; others were not. Some folks were able to work from home; others were not. The lack of communitywide access meant the county could not move all services online, making it even more difficult to deal with COVID restrictions.
What we learned in the past:
Kanabec County has worked with the Blandin Foundation. The Kanabec Broadband Initiative has been working on better broadband for years.
In 2018, a Blandin Foundation report looked at the impact of Federal CAF II funding in two towns in Chisago, Isanti and Kanabec Counties. CAF II money went to qualifying providers to subsidize network deployments that can deliver service of at least 10/1 Mbps. The study found that while some areas were upgraded beyond that speed; some remain at speeds that do not meet the 2022 nor 2026 MN broadband goals.
Kanabec benefited from a state broadband grant:
2016 – BENTON COOPERATIVE TELEPHONE COMPANY BOCK – GRANT: $510,000
Update from 2020:
Kanabec County has been working on improving broadband in their area for several years. Coming up with innovative ideas, such as the digital navigators.
Is broadband a help or hindrance in dealing with COVID?
Kanabec County met with Blandin on Broadband to talk about how their broadband situation helped or hindered the ability to deal with COVID restrictions.
Talking to two people who live in town (served) and work with people around the county (underserved), I learned what a difference a mile or two can make.
The schools sent a survey home with kids; 6-12 percent of students (depending on location) didn't have access to broadband. BUT when asked if that broadband was sufficient, 20-30 percent said they lacked access. The schools tried to help students without access by providing devices and mobile hotpots, unfortunately hotspots did not work for all households because of spotty cellular access.
They have seen increased interest in people looking to move into the county, but only in areas with broadband.
The extremes in access builds a digital divide within the county. The need to cater to the extremes means the schools need to modify their expectations, which sets up a digital divide between Kanabec and counties with more ubiquitous broadband.
Find more articles on broadband in Kanabec County.
Households with Device Access
Computer
84.4%
90.3%
statewide
Desktop or Laptop
71.2%
81.1%
statewide
Smartphone
67.7%
76.5%
statewide
Tablet
50.6%
59.3%
statewide
Has Worked with Blandin Foundation
Yes
Has Received MN Grant(s)
Yes
Government Districts
U.S. Congress: CD 8
MN Senate: 11, 15
MN House: 11B, 15A