Table of goal data by year

| Year | Rank | 100/20 Mbps |
| --- | --- | --- |
| 2022 | #27 of 87 | 87.57% |
| 2021 | #42 of 87 | 80.13% |
| 2020 | #36 of 87 | 80.11% |
| 2019 | #44 of 87 | 74.99% |
| 2018 | #30 of 87 | 71.38% |
| 2017 | #82 of 87 | 3.46% |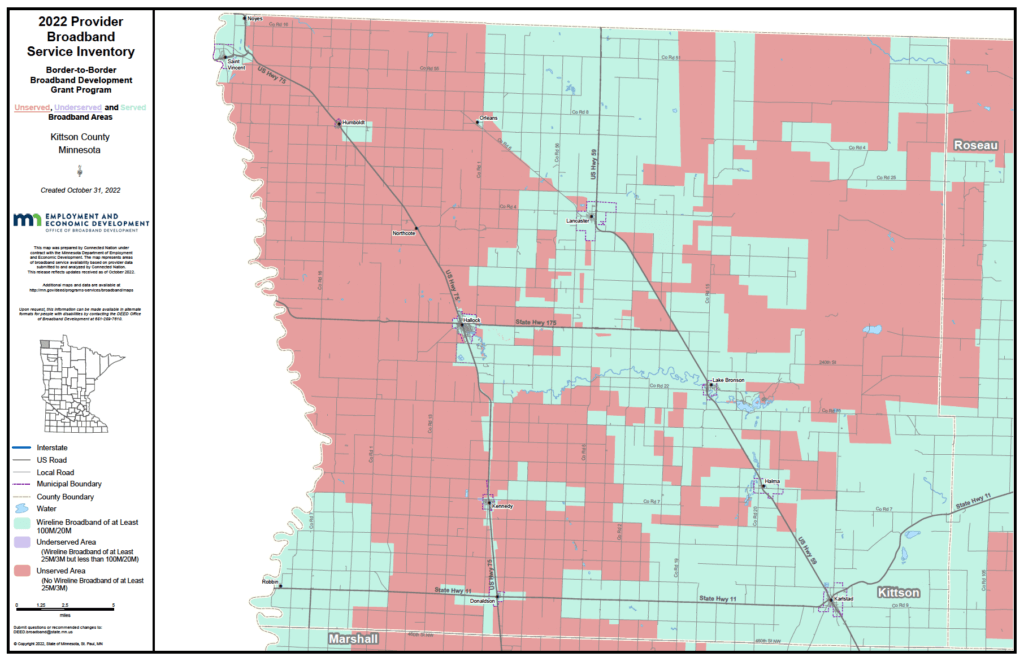 Rank: 27 (out of 87) for access to 100/20 megabits per second (Mbps)
Kittson County ranks 27 for broadband access and 67 for digital equity out of 87 counties. They have seen pretty steady increase since 2018 landing at 87;57 percent coverage to broadband of 100 Mbps down and 20 up in in 2022. They have 282 households without access to broadband at that speed. Estimates indicate that it will cost $2.6 million to get to ubiquitous broadband in the county.
Kittson County will benefit from a border to border grant announced in December 2022:
Wikstrom Telephone Co. Inc, $665,699.00 (serving Beltrami, Kittson, Lake of the Woods and Marshall)
Kittson County has seen small increases in access over the last three years. But it seems like they really got traction in the last year and a recent grant announcement indicates they could sustain that. In fact, they saw the fourth greatest increase in county ranking this year! Up 15 places! They have really earned the yellow code they have.
Digital Equity:
Kittson County ranks 67 out of 87 for digital equity. (See full Digital Equity Profile)
Kittson County ranks 75 out of 87 for computer ownership. 87.9 percent of homes have a computer of device as compared to statewide ownership of 95.5 percent.
Households with Device Access
A Device
82.5%
95.5%
statewide
Desktop or Laptop
71.7%
83.2%
statewide
Smartphone
63.5%
90.1%
statewide
Tablet
42.6%
65.8%
statewide
Has Worked with Blandin Foundation
No
Has Received MN Grant(s)
Yes
2017 – Wikstrom Telephone – Wiktel NW MN Broadband – GRANT $1,307,785
2016 – WIKSTROM TELEPHONE COMPANY WIKTEL NW MN – GRANT: $950,823
2014 – Wikstrom Telephone, Kittson, Marshall, Roseau Broadband Extension – Award $425,000
2019 – Wikstrom Telephone – Wiktel NW MN Broadband Project – GRANT $1,151,526
There is a matrix of Minnesota broadband adoption projects; it includes projects from this area.
Government Districts
U.S. Congress: CD 7
MN Senate: 01
MN House: 01A