Table of goal data by year
Year
25/3 Mbps
100/20 Mbps
2020
#77 of 87
66.63%
#74 of 87
54.44%
2019
#14 of 87
98.45%
#85 of 87
20.62%
2018
#11 of 87
98.02%
#80 of 87
20.55%
2017
#83 of 87
37.67%
#71 of 87
20.52%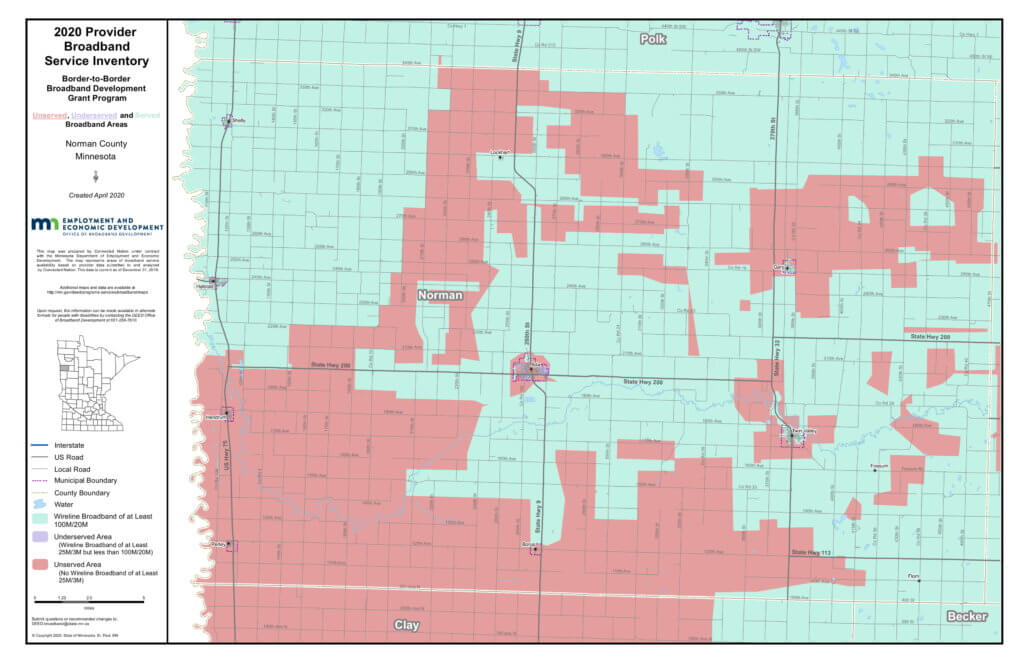 Rank: 73 (out of 87) for access to 100/20 megabits per second (Mbps)
The good news for Norman County is that they are out of the bottom ten counties for broadband access. They moved the needle from 20 percent to 54, which is impressive but still a long way from the 2026 goal. They have a few providers in the county that have been innovative and shown an interest in working with communities. If the county wants to see progress, they many need to engage with those providers.
What we learned in the past:
Norman County does not have many wired providers, but they do have a few that offer 2026 speeds (Garden Valley Telephone Company and Halstad Telephone Company). They will need to work to get these providers to expand service or work with others to upgrade their service to meet the needs of the county.
Update from 2020:
No broadband news reported from Norman County since the last profile.
Find more articles on broadband in Norman County.
Households with Device Access
Computer
79.1%
90.3%
statewide
Desktop or Laptop
69.2%
81.1%
statewide
Smartphone
61.6%
76.5%
statewide
Tablet
47.7%
59.3%
statewide
Has Worked with Blandin Foundation
No
Has Received MN Grant(s)
No
Government Districts
U.S. Congress: CD 7
MN Senate: 04
MN House: 04B