Kyle Erickson
Grants Program Officer – Community Wealth Building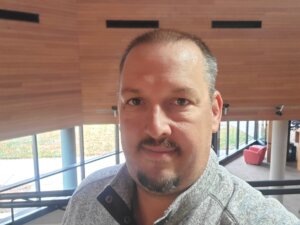 I was born and raised in the small town of Cass Lake, on the Leech Lake Reservation in northern Minnesota. Spending a few years in the Twin Cities after college confirmed that rural living, with its clean air, clean water, quiet forests, and lack of traffic jams, was where I want to be. For the past 20-plus years I've worked in banking, higher education, and philanthropy – all squarely focused on building strong, inclusive rural communities.
My work in Blandin Foundation's Community Wealth Building focus area allows me to build on what I've learned from the priceless relationships I've developed at each point in my career. I love the opportunity my work provides to support rural communities in building capacity to create opportunities and improve outcomes for all of their residents.
Outside of work I have two sons along with a dog and three cats. I enjoy cooking, live music, and video games, but my favorite way to spend free time is bass fishing on northern Minnesota's many beautiful lakes.
Kyle – he/him