LuAnn Robinson – Nawagiizhigookwe
Grants Management Assistant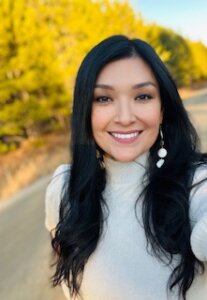 I take comfort in knowing who's who in my community, we learn from each other continuously while working to keep our community a place that we can be proud of. We have a great group of young adults and youth that work with our schools and outside agencies to have events that bring everyone together, all while utilizing the wisdom of our community elders.
My entire life revolves around my wonderful kids and grandkids! We spend a lot of our time going to pow-wows during the summer months, we call this the "pow-wow trail!" I enjoy cooking and spending time outdoors gardening, hiking and exploring.
I began my Blandin journey as a communications intern and shortly after that took on my new role in the Grants department. I enjoy working with small communities and watching them prosper in ways rural deserves to!  I have an associate's degree in liberal education from Leech Lake Tribal College and am working towards my bachelor's degree in communications.
LuAnn – Nawagiizhigookwe – she/her