Mary Magnuson
Grants Program Officer - Rural Placemaking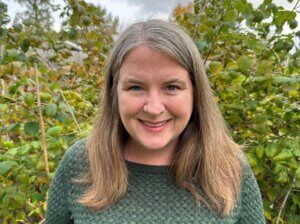 I've always been interested in culture and quality of place. One of my earliest memories from growing up is curling up with my dad and watching documentaries on "channel 2". My favorites were shows about history and archaeology, especially when the focus was on how regular people lived – their homes, towns, occupations, art, and religion — I would imagine what it was like to live like them.
This led me to study Anthropology at the University of Minnesota, with an emphasis on European Archaeology. The highlight of which was attending a five-week archaeological field school at a potato famine site in Strokestown, County Roscommon, Ireland. It was my first trip overseas, first (and only) time working at a dig site, as well as my first experience living in a very small rural community. I am grateful to have had the chance to get to know the people and get a taste of what life was like there.
I moved to Grand Rapids from the Twin Cities in 2002, figuring I'd give life in a small town a try. Soon, I was fortunate enough to join the Foundation's Public Policy & Engagement Team where I supported the Vital Forest/Vital Communities and Broadband initiatives. By 2009 my work had transitioned primarily to Broadband. It was a particular privilege working with our Blandin Broadband Community teams as they organized around a shared desire for improved broadband, implemented technology-based projects, and built relationships that truly made a difference in their communities.
I consider myself fortunate to live in downtown Grand Rapids where I am walking distance of work, shops, entertainment, and my teenage daughter's schools (and thus never need to drive during or right after a snowstorm.) I've enjoyed getting to know my neighbors on my twice daily dog-walks, and have been involved with several community groups. Currently I'm president of the Grand Rapids Arts, which organizes the First Friday Art Walk – my favorite day of the month! I'm also a volunteer for Grand Rapids' start-up food cooperative, Free Range Food Coop. But I may be most famous for my seven-year stint with the Iron Range Maidens roller derby team.
I've recently transitioned to my role as Grants Program Officer for Rural Placemaking and look forward to assisting rural communities realize their brightest futures through arts, culture, and quality of life.
Mary – she/her