Senja Morque
Programs Specialist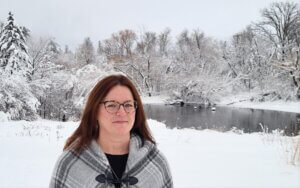 I grew up in rural Minnesota, went to college in rural Minnesota, then had a 6-year, 7-city whirlwind tour of urban America. Through all those moves, I had many opportunities and a whole lot of ambition, but my heart wasn't feeling it. The next move to a smaller city seemed to be the answer and lasted almost 8 years. Moving back to Grand Rapids was inevitable. What I realized was missing was the sense of community, the human connection to more than family and friends, and to return to nature in rural northern Minnesota.
As a member of the Innovation and Design team, I help advance the team goals by connecting with my colleagues across the many departments of the Foundation on various project work. Through Digital Asset Management and archiving, I can glean tidbits of our past to help staff make wise, creative decisions for the future of the Foundation and for the rural communities we work with.
Along with staking my claim to be the resident historian-enthusiast, I also support the research officer, mentor new staff members, and help maintain a work environment that is welcoming and promotes learning and creativity. I am able to tap into previous professional experiences to work with the design, purpose, and function of the building, which includes a touch of "spirit of harmony" – a phrase used by our founder.
I am grateful I had the opportunity to move back to Grand Rapids with my family (human and furry!) and that our boys also grew up in rural Minnesota.
Senja – she/her