Traci Gangl
Director of Information Systems Technology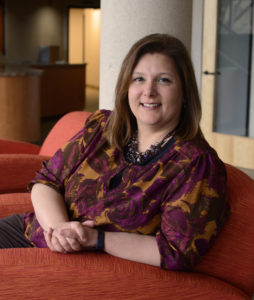 Traci has been an employee of the Blandin Foundation since March 2000, holding positions that allowed her to perform work in the Foundation's programs, grants, and administrative areas. As the Director of Information Systems, Traci is responsible for the oversight, planning, development, and staff engagement of the Foundation's information systems.
Traci earned a master's degree in information systems management, with a concentration in IS governance and strategy, from Walden University. Prior to working at the Foundation, Traci worked in the nonprofit and government sectors. She is an active member of the Technology Affinity Group (TAG) that serves the nonprofit and foundation communities nationally, and has been a speaker at the TAG Conference and the Salesforce Dreamforce conference.  Traci is active in the Parent Teacher Council and the Greenway Amateur Hockey Association.  She lives in rural Bovey with her husband, son, three dogs and two cats.
A self-proclaimed techie, Traci reports: I can't live without my smartphone!  It holds the schedules for me and my family, my shopping lists, my music, and is my most frequently used line of communication.  I especially like how it beeps at me to remind me that I have to do something or be somewhere.  I honestly don't know how I lived without this thing.  Although, I do purposefully forget it at home sometimes so I can't be contacted and can be "off the grid" for awhile in peace.