Tuleah Palmer
President and CEO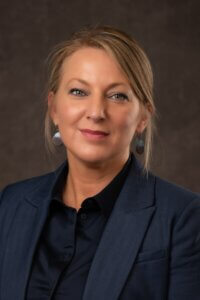 Tuleah began her role as president and CEO of Blandin Foundation in Grand Rapids, Minn., in July 2020, amidst the early stages of the COVID-19 pandemic, at a tender time in history, and at the beginning of the renewal era of natural and man-made disasters. She oversees the foundation's grantmaking, community leadership training and public policy initiatives, as well as stewardship of foundation resources.  
Tuleah's perspectives from 20 years of nonprofit management guide her work for the Foundation. She most recently served as executive director of Northwest Indian Community Development Center in Bemidji, Minn. Prior to that, she was tribal planner and community development grant writer for Leech Lake Band of Ojibwe, executive director of the Boys and Girls Club of Leech Lake Area, victim services coordinator for Beltrami County Attorney's Office and a provider of direct services and advocacy at the Domestic Abuse Intervention Project in Duluth, Minn. 
In these roles she focused and rebalanced resources, relationships and approaches to transform work in community and economic development, workforce development and systems change. She secured and managed more than $100 million in grants from state and federal agencies and foundations, and has successfully secured funding – including bonding funds – more than a dozen times at the state capitol. She has established and maintained relationships between municipal, county, state and tribal governments, nonprofits and Minnesota state systems.  As a nonprofit executive, she led strategic planning, implemented finance and IS integrations, and oversaw program design and evaluation.  
Tuleah serves in a variety of advisory roles, including the Minneapolis Federal Reserve Community Advisory Board, Legal Services Corporation's Rural Justice Task Force, Governors Council on Economic Expansion, Governor's Workforce Development Council, and Hubert Humphrey Institute of Public Policy's Future Services Institute. 
For her work in racial equity and community development, Tuleah was recognized in 2019 by St. Paul & Minnesota Foundation as its Facing Race Statewide Award honoree.  She and the Northwest Indian Community Development Center also received the Bush Prize in recognition of proven community impact, with a $500,000 award used to address homelessness in Bemidji, including developing housing for women returning from incarceration. She was named to the Young Women's Initiative Executive Council in 2021. 
A first-generation college graduate, she holds the Bachelor of Arts degree in Applied Psychology from Bemidji State University. 
Born in Deer River, Minn., Tuleah is a homegrown Minnesota North Country girl from a diverse family of hard-working laborers, educators, artists and entrepreneurs, and is proud to have hands like her grandma Larson, who peeled about a million potatoes grown in the rich soil of Aitkin County. For the last 16 years, she has lived in Cass Lake, Minn., where she is the parent of school-aged children. She gardens to get her best ideas.