Image: courageous-leadership-award-1500×1000
For its early recognition of the importance of telecommunications to its economic future and for its perseverance in deploying a fiber optic network that has transformed the city's local Internet environment.

In 2005, in response to business and resident complaints about slow, unreliable Internet access and overly expensive telecommunications services, the City Council appointed a Task Force to investigate options for the community.
In a referendum in 2007, 74 percent of voters supported creation of a municipally owned network.
Despite a disruptive lawsuit by an incumbent provider, the city forged on and today, FiberNet Monticello, delivers affordable high-quality broadband services in a highly competitive local marketplace.

The Institute for Local Self Reliance has estimated that the network has saved city residents approximately $2 million per year in telecommunication costs since it's been in operation.

FiberNet also has dramatically increased both available speeds and options for a reliable connection to businesses, improving Monticello's ability to support innovative business practices and attract and retain knowledge workers.

Thanks to this municipally-owned fiber-to-the-home network, the City of Monticello has transitioned from a poorly connected community to one of the top connected communities in the nation.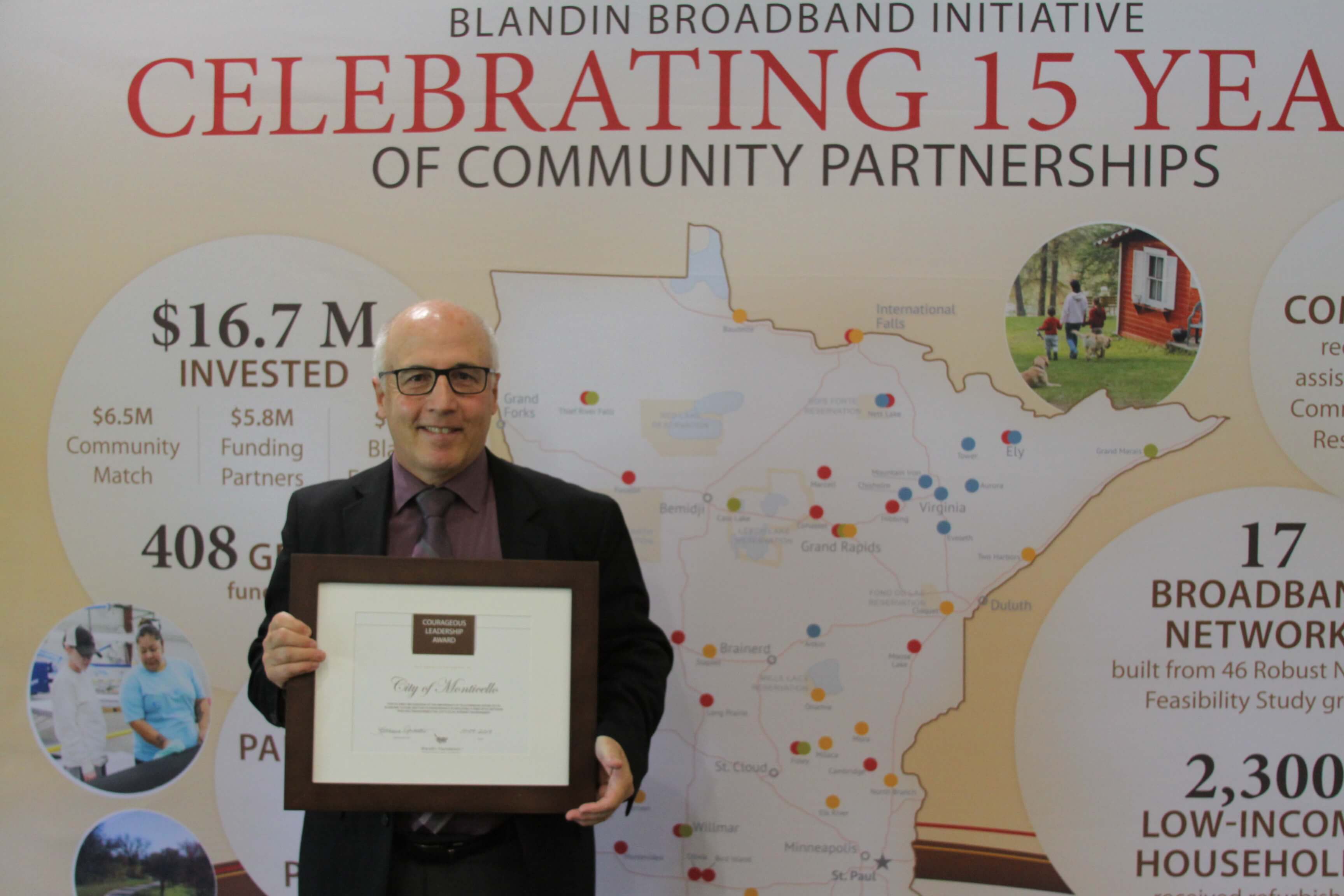 Jeff O'Neil, City Administrator
Why is it important that rural Minnesotans have broadband access?
Vitality can't be divided between urban and rural settings; all communities deserve the tools necessary to thrive in the modern world. Broadband is increasingly integrated into all facets of life, demanding that rural areas have access to high-speed internet. Whether for government, business, education, healthcare, or recreation, the ability to utilize broadband services is essential maintain the quality of life for Minnesotans across the state.
What role did local leadership play in your accomplishments?
Monticello leaders were pivotal to our community's accomplishments. They were willing to drive the project forward from conceptualization to construction. They supported the fledgling enterprise during the early years of its existence and championed its vital importance as a municipal utility during the most challenging periods of its operation. Even as leadership changed over time, local officials remained steadfast in their commitment to maintaining the system's place in the community. Through their oversight and support, staff was given the latitude to evaluate options for operating the system and initiate a new management contract to bring greater stability the network and service to the community. Thanks to our leaders' courage of conviction, FiberNet remains an asset in the community more than a decade after its initial inception.
What do you see as your biggest broadband victory?
We consider our biggest victory to be successfully fighting for access to broadband in our community. A vision of universal access to broadband service and its impacts is larger than any single network, and it's a vision we fundamentally support for all communities.
More than a decade ago the local business community expressed concerns about the economic impact of poor broadband service at a high price. Through these conversations, Monticello leaders came to understand the fundamental importance of laying the technological foundation for reaping the rewards of high-speed broadband. After unsuccessfully pursuing more traditional options, the city leaders ventured into new territory to respond to the need expressed by constituents.
As we worked to find the most efficient way to build, operate, and maintain FiberNet, we were at the forefront of a broader, long-lasting fight to classify this service as a utility with municipal jurisdiction. When it comes to telecommunications services, communities cannot afford to be led by an industry where profit is the primary motivator. Instead, we must find creative solutions together to bring technology to both urban and rural areas.
Monticello was unwilling to cede the advantages of technology to larger cities with a greater profit potential to the private sector. If the city provided choice, it could assure the community access to 21st century services at a reasonable cost. The community now has access to dual fiber networks with a choice of providers without sacrificing service or price.
The city's role in operating FiberNet has evolved over time, but we've never wavered in our belief that access to broadband is essential to everything from economic vitality to quality of life. We're proud the technology is available to Monticello at affordable rates, and we're proud to continue to participate in efforts for broadband access across the state of Minnesota.
What words of encouragement would you give to community leaders working to improve broadband access?
You don't have to do it alone.
More than ever before, there are government programs, non-profit organizations, and partnerships available to help communities design and execute increased local broadband access. After you take the time to understand the needs and unique characteristics of your community, take advantage of the experience gained from cities and counties who have created a spectrum of options for meeting the needs of residents, businesses, and organizations. Utilize the immense resources offered by organizations like the Blandin Foundation and the Office of Broadband Development. Build alliances with your peers and industry innovators with the same vision for ensuring access to even the most rural, underserved areas. Together, we can meet the needs of communities all across the state of Minnesota.