Image: courageous-leadership-award-1500×1000
For becoming a national leader in digital inclusion efforts, both by growing its own effort and by supporting like-minded non-profits around the country, ensuring that tens of thousands of low-income families and individuals have the computers and Internet access they need to fully participate in society.

Founded in 1998, PCs for People is a recognized national leader in digital inclusion.
PCs for People has distributed more than 80,000 computers, subscribed thousands of families to low-cost internet, and recycled millions of pounds of electronics, transforming itself from a small Minnesota non-profit into a national force for good.
PCs for People model contributes to environmental sustainability by intercepting usable computers before they reach landfills and refurbishing them for reuse.
CEO Casey Sorensen recently received the Charles Benton Foundation Digital Equity Champion award for 2019 for the work of PCs for People.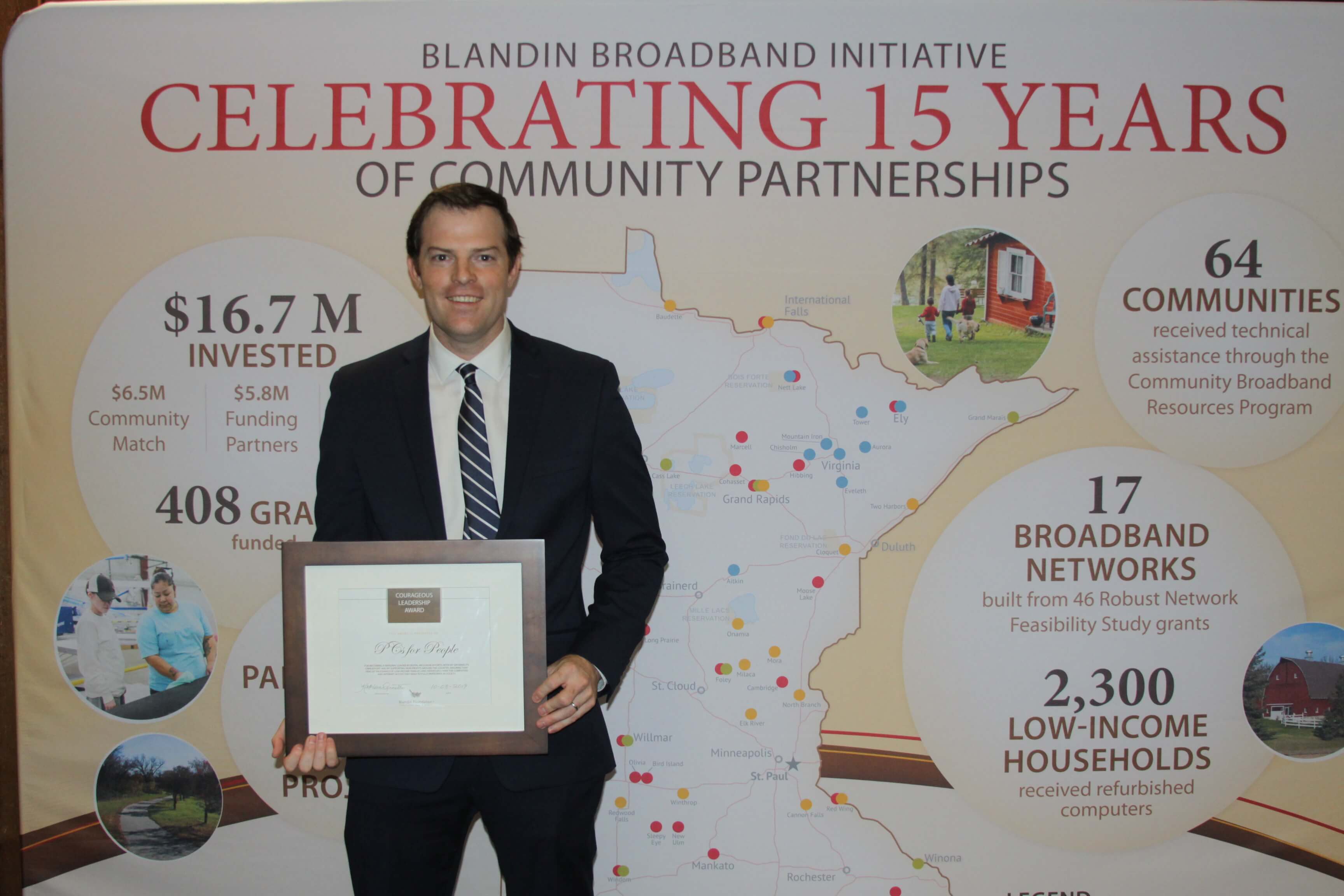 Accepting the Award: Casey Sorensen, CEO of PCs for People
Accepting the Award: Casey Sorensen, CEO of PCs for People
Why is it important that rural Minnesotans have broadband access?
Broadband access improves rural economies, employment opportunities, health and education, and overall is an essential tool for full participation in today's society.
What do you see as your biggest broadband victory?
PCs for People's largest victory is connecting 320,000 people in all 50 States and Puerto Rico. Over the last 11 years, PCs for People has grown from a Minnesota startup to a national leader with a scalable solution to digital equity, one of the largest social problems today.
What role did local leadership play in your accomplishments?
When we launched in 2008 there was little energy in the US around digital inclusion and digital equity. That started to change with national, visible programs like the Broadband Technology Opportunities Program (BTOP), a $4 Billion Federal initiative, Connect Home, the National Digital Inclusion Alliance, and President Obama's ConnectALL Initiative. These programs helped to raise national awareness of digital equity and the importance of a home computer and internet connection. Many local governments now have Digital Inclusion managers, digital equity plans, citywide digital inclusion coalitions, seek reuse of retired technology instead of recycling and make investments in digital literacy. Headquartered in Northern Minnesota, the Blandin Foundation were early leaders in this space and have been a key partner in PCs for People's impact, evolution, and national growth for nearly 10 years.
What words of encouragement would you give to community leaders working to improve broadband access?
It is worth the investment to create a digital equity plan for your city and outline attainable goals. Templates exist and with local research can be adapted to your community's needs. This plan should include broadband, mapping, and infrastructure but also addresses barriers to adoption. To successfully improve adoption there needs to be infrastructure, internet at an affordable price and speed, low-cost devices like computers, ongoing technical support, and digital literacy training. The Federal Reserve has taken notice and is building awareness of the digital divide as a foundational community and economic development issue. "The KC Fed structured its report, Disconnected, T" understanding of the issues; a city manager, for example, concerned with affordable broadband in low-income communities, but also concerned with filling potholes, fire protection, and affordable housing." – KC Federal Reserve