Image: jea 0428 Justice McKeig.JPG
Scholarship voice: Anne McKeig
From Federal Dam to the state bench
 As a teen, Anne McKeig set her sights on practicing law. Her focus, determination and willingness to tackle new challenges propelled her career path – the early stages of which included a Blandin Foundation Education Grant –  to one of the highest destinations: becoming the first Native American to serve on the Minnesota Supreme Court.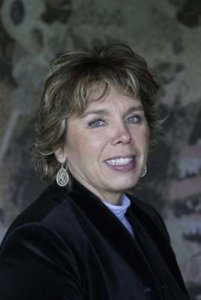 I was raised in Federal Dam, Minnesota.  I attended Northland Remer High School.  I was the middle child out of five – four brothers and myself.  My father was born in Onigum at the Indian Health Services Hospital.  He then moved to Federal Dam, where he grew up.  My mother was from Bemidji, and later made her home in Federal Dam after marrying my father.
My family would often go to Grand Rapids to buy groceries.  When I was in high school, my friends and I would go to Grand Rapids whenever we wanted to go to a movie.  Blandin Foundation has always had a large existence within a very large geographic area.  I knew about them because I saw the building when going to Grand Rapids, but also because I knew that they were generous in giving scholarships to young people who wanted to attend college.  I am confident that my two older brothers received financial assistance from the Blandin Foundation when they headed off to college.  We were of very simple means, so without financial assistance none of us would have been able to attend college.  In 1985, I graduated from Northland Remer High School with the intention of attending St. Catherine University in St. Paul.  Blandin offered me financial assistance to reach my goal of attending St. Catherine.
In ninth grade, I had decided that I wanted to be a lawyer (this after a research project on dentistry).  Once I decided to become a lawyer, I never strayed from that goal.  Leaving northern Minnesota, and the comforts of a small community, for the Twin Cities was not easy.  It was challenging because it was new territory – different people, lots of traffic, lots of noise, and very little of the beautiful trees of northern Minnesota.  I graduated from St. Catherine University in 1989, and attended Hamline University School of Law (also in St. Paul) on a full scholarship.  After graduation from law school, I was hired by the Hennepin County Attorney's Office where I began my work in child protection.  I did not know anything about this area of law, if I would like it, or where it would take me.  While it was very challenging work, it allowed me the opportunity to work with my home community.  I was an attorney who worked on cases related to the Indian Child Welfare Act, and would travel north to the Leech Lake Reservation (as well as others) to discuss cases with the Tribes.  This was a very rewarding part of my county attorney work.
In 2008, I was appointed by Gov. Tim Pawlenty to the Fourth Judicial District.  I worked as a district court judge for the next eight years before I was appointed to the Minnesota Supreme Court by Gov. Dayton in 2016.   As part of my current job, I am a liaison to the Ninth Judicial District, which encompasses Grand Rapids.  It always brings me happiness to jump in the car and head north.  I have also had the honor of speaking at commencement ceremonies which include my old high school (Northland Remer) and Bemidji State University.
My mother still lives in Federal Dam, along with two of my brothers.  Another brother lives near Long Bill and works in Walker.  They all still go to "the Rapids" to get groceries and other things.
It is so important to have a place like Blandin in rural Minnesota.  Blandin has provided to many people (myself included) the ability to chase our dreams and fulfill our goals.  I am forever grateful for the financial support, and Northern Minnesota will forever be my home.
Justice Anne McKeig
Minnesota Supreme Court