Image: Dennis Prosen
Scholarship voice: Dennis Prosen
Plants and polymerase: points along the path of a science career
Dennis Prosen's curiosity has cultivated a rewarding, varied biotech career. His roots in Coleraine – and a Blandin Foundation scholarship – gave him the strong start he needed, and a way to nurture future generations of learners.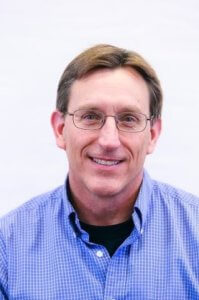 The Blandin scholarship inspired me to give back by sponsoring my own high school scholarship at Greenway.  While I only started it in 2018, three students have already been helped.  My current employer, Becton Dickinson and Company, matches my scholarship donation to the Greenway Foundation.
Let's go back to how this all started.
Over 40 years ago, I was Valedictorian of my Greenway class and was the lucky recipient of a Blandin Foundation scholarship.  It helped pay for the majority of my college career at Bemidji State University.  And since I was the sixth of eight children, it was greatly needed and appreciated.
With so much of my college paid for, I was able to concentrate on my chemistry, mathematics and physics studies.  In my spare time, I was a four-year All-American swimmer at BSU. After graduating summa cum laude with a BS in chemistry and double minors in math and physics, I continued my education at the University of Colorado, Boulder studying Biophysical Chemistry with RNA polymerase (a DNA enzyme) in the chemistry department.
While completing my Ph.D., I was exposed to very intriguing aspects of plant molecular biology.  This led me to my first post-doctoral position in biotech in California.  My interests in plants dated back to my early years in Coleraine where, at 10 or 11 years old, I realized the only way to get my pumpkin vines to produce big, healthy pumpkins was to pollinate them myself. (I guess we didn't have enough bees, and I apparently was a decent substitute.)
I went on to two additional post-docs in significantly different fields: one with molecular markers in hematopoietic (blood) stem cells and the other one with gene expression in epithelial (tissue) cells. I returned to plant molecular biology for my first full-time job.
After 9 years in agricultural biotech, I changed fields again, returning to my graduate work in biophysics and a different polymerase (DNA polymerase) with which I have basically been working ever since.  Most recently, I reentered the realm of hematopoietic cell gene expression at Becton Dickinson and Company.
All these jobs have been in the San Francisco Bay Area because it is the mecca of biotechnology. While I have lamented that my career has taken me away from Minnesota and my siblings and parents, the Bay Area is simply where my employment opportunities exist. Family is important, but as my father once told me, "First and foremost, do what is best for your family (wife and kids).  It will build a strong family for you, like it has for me.  And your siblings will always be your siblings." So my wife of 35 years and my two children, who both work for biotech companies, continue to thrive in California.
So, how is it possible to move around in one's field and re-invent your career? Science is a big ship, and I am interested in all of it. My career has allowed me to explore multiple interests; many of them come together in my current situation.
It wasn't a career plan.  It was more of a random walk that became my career. I never liked the interview question "What do you see yourself doing in 5 years?" — because that wasn't me. I simply picked up the flowers and some thorns and enjoyed all of them.  I also have been able to contribute in so many unique ways because my background was so broad.
What do I do now? I fix things.  I take processes and procedures and reactions, and break them down and then fix them so they are more efficient.  I do the same thing around the house.  I enjoy being a handyman (I'm the "master plumber" in my neighborhood), building things, experimenting with photography and much more – like designing the installation of my own solar panel array at my home.
I've also come full-circle (so to speak) with the pumpkins. I lead science presentations for kids' classes, including one with giant, 180-pound pumpkins.
Dennis Prosen, Ph.D., Senior Staff Scientist