Image: Blog hero Plant Plate 09 boys dig in
GroundWork
News and ideas you can use to strengthen rural Minnesota communities.
Collaborating for kids
by Blandin Foundation Posted in Vibrant Rural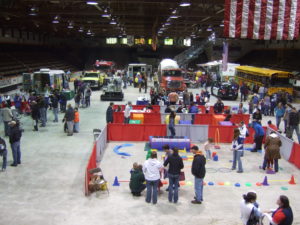 It all started in a corner of the town's Target parking lot in 1999 and today it takes two hockey arenas to contain it.  In just four hours on April 16, more than 3,000 children and caretakers gobbled up the resources and fun of the 13th annual Children First! Children's Fair in Grand Rapid, Minnesota.
Half Disney World and half continuing ed for grownups, the fair is completely focused on the success of the region's children.  Children First! Children's Fair draws together all types of organizations dedicated to children and is completely free to visitors.
Collaboration and leverage are hallmarks of education outreach in Itasca County, a rural region of 40,000 residents.   Originally an initiative of the Blandin Foundation, Children First! now is coordinated by the Itasca Area Schools Collaborative.  Seven school districts in Itasca and neighboring counties formed IASC originally to focus on shared technology needs and have expanded to continuing education and other shared services.  Invest Early is another of the region's collaborative efforts focused specifically on early childhood services for disadvantaged children and their families.
Sign Up for E-News
Subscribe to our periodic newsletter for updates and opportunities about vibrant rural Minnesota.