Image: Blog hero Plant Plate 09 boys dig in
GroundWork
News and ideas you can use to strengthen rural Minnesota communities.
Driving toward a drop-in center
by Blandin Foundation Posted in Rural Capacity Building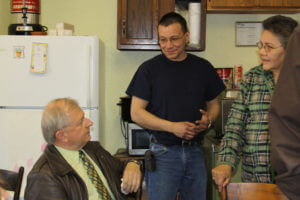 For Michael Wade, every minute holds the possibility to change a community.
"Give me a half-hour, I can help someone move into a new home. Give me an hour, and I can start a food shelf," says this resident of Virginia, Minnesota, and driving force behind the  new Virginia Indian Center, a drop-in center for Native Americans.
Ten months ago, Wade knew such a facility was sorely needed in a community that had gone more than five years without a hub to connect those at risk with the resources they needed. He just wasn't sure how best to address the need.
Last fall, in community leadership training offered by the Blandin Foundation to residents of the Virginia area, Wade's next steps became clear. Conversations with the 23 other participants from Virginia confirmed the community's need and boosted his confidence. With insights from the training sessions, Wade changed his approach. 
"It was helpful to learn the different ways people learn — audio, visual, kinesthetic," he said. "Once I knew what kind of learner I was — more visual — I started communicating differently about the project, in ways that used my strengths."
Response to his revised approach was powerful. In the coming months, he rallied support from area banks, churches, human service organizations, and city council. He located and refurbished a building, secured computers and high-speed internet connections, developed support groups for men and women, gathered donations of furniture, clothes and appliances — and created a food shelf.
The Virginia Indian Center opened its doors April 5, two weeks before Wade's graduation from Blandin's leadership program. 
Like the dozens of other BCLP leadership alum in the Range's Quad Cities area, Wade believes success in community work means doing it yourself, but not alone.
"Your community is your community. When you get out in community, things get done."
Sign Up for E-News
Subscribe to our periodic newsletter for updates and opportunities about vibrant rural Minnesota.