Image: Blog hero Plant Plate 09 boys dig in
GroundWork
News and ideas you can use to strengthen rural Minnesota communities.
Beyond graduation – the rural brain gain
by Blandin Foundation Posted in Vibrant Rural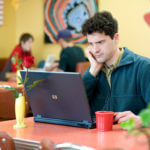 Graduation season is here – and along with it, the usual discussions of "brain drain:" rural youth leaving in droves for larger towns and cities for college and other post-secondary training.
But research by Ben Winchester at the University of Minnesota Extension Service's Center for Community Vitality suggests there's another chapter to this story: Rural Brain Gain. Over the past several years, Winchester has compiled compelling evidence that when those once-rural youth hit middle age, they return to rural areas whenever possible – with spouses, young families, college degrees and portable careers that enrich "every rural county in the state."
Perhaps not surprisingly, quality of life issues are key for those who migrate back to rural communities: safety, slower pace of life and housing.
Jobs, it seems, aren't the key driver – though Winchester also notes that for many, technology is one facet of the quality of life picture. (See more in the great 3-minute video on the Brain Gain website.) Which is part of the reason he was a presenter at the recent gathering of Minnesota Intelligent Rural Community partners. (You can catch snippets on Twitter, too: #mirc2012.) This collection of communities, government entities, and for-profit and non-profit organizations are focused on how to get folks in rural communities to understand and use high-speed, broadband internet in their daily lives to search for jobs, take classes, and telecommute for work.
Seems like those Brain Gain folks would be on board – and online – with that.
Sign Up for E-News
Subscribe to our periodic newsletter for updates and opportunities about vibrant rural Minnesota.