Image: Blog hero Plant Plate 09 boys dig in
GroundWork
News and ideas you can use to strengthen rural Minnesota communities.
Tackling a tough issue: health care
by Blandin Foundation Posted in Rural Capacity Building, Vibrant Rural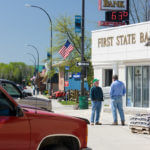 Itasca area residents last night added their voices to a growing chorus on issues related to Minnesota health care. Citizen Solutions held a community conversation in Grand Rapids, hosted by Bush Foundation, the Minnesota Citizens League and Blandin Foundation, to gather comments from folks on what's working – and what's not. The Minnesota Health Care Reform Task Force will take these insights, and those from 39 other such meetings being held across Minnesota through July, into consideration as they craft recommendations for keeping health care affordable and of good quality for Minnesota residents.
This work is timely; health care reform has been on rural Minnesotans' minds for some time. Statewide, health care was in the top 3 critical issues facing rural communities according to the 2010 Rural Pulse,  a survey of rural leaders commissioned by Blandin Foundation. In Itasca County, 25 percent of those surveyed said it is a critical issue. It's heartening that Citizen Solutions is reaching rural for feedback; folks around Worthington and Virginia will have the chance to make their voices heard at meetings in the next few weeks.
Sign Up for E-News
Subscribe to our periodic newsletter for updates and opportunities about vibrant rural Minnesota.