Image: Blog hero Plant Plate 09 boys dig in
GroundWork
News and ideas you can use to strengthen rural Minnesota communities.
Women's equality in Minnesota: we're not there yet
by Blandin Foundation Posted in Vibrant Rural
The 2012 Road to Equality Tour made a stop July 18 at the Blandin Foundation to share findings from the recent Status of Women & Girls in Minnesota report. A Blandin Foundation grantee, the Women's Foundation of Minnesota, along with their research partner, University of MN Humphrey School's Center on Women & Public Policy, offered data on what's happening for women and girls in Minnesota. Also talked about was the statewide campaign, MNGirls Are Not For Sale, specifically focused on ending the prostitution and sex trafficking of underage Minnesota girls.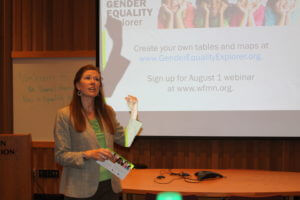 The research report found that Minnesota women and girls continue to face disparate outcomes in comparison to men and boys in multiple measures of economics, safety, health and leadership. It also shows that disparities are even greater for women of color, rural women, LBT (lesbian, bisexual, transgender) women and women with disabilities. Some startling statistics were reported, such as:
More than 50% of Native females under 18 years of age lives below the poverty line.
By mid-life, nearly one-third of Minnesota women have experienced sexual violence.
One-fourth of Minnesota women are considered obese and another 30% considered overweight, with rural Minnesota women at higher risk.
Not one woman is included in more than 50% of Minnesota's 87 county commissions.
Minnesota women now earn the majority of postsecondary degrees at all levels.
Blandin Foundation President and CEO Dr. Kathy Annette issued a challenge to all attendees, "Take the lessons you learn today and believe that a better future is possible…and lead hopefully."
Click here to view the full report.
Sign Up for E-News
Subscribe to our periodic newsletter for updates and opportunities about vibrant rural Minnesota.