Image: Blog hero Plant Plate 09 boys dig in
GroundWork
News and ideas you can use to strengthen rural Minnesota communities.
Education bill forges new path for MN schools
by Blandin Foundation Posted in Vibrant Rural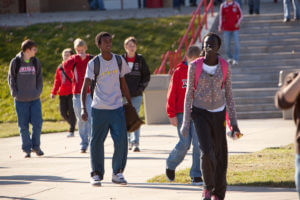 Change is in the air for Minnesota schools. Graduating students are saying their farewells and preparing for a new journey. Education in Minnesota is also embarking on a new journey thanks to a recent bill passed by the Minnesota Legislature.
The $15.6 billion education funding bill will increase state education spending by $485 million over two years and provide funding for:
• All-day kindergarten
• Early learning scholarships
• Additional funding to the per-pupil formula
Rep. Paul Marquart, lead proponent of "The World's Best Workforce" plan and sponsor of the bill, said that the bill's passing marked a historic day. The bill's investment in education will help accomplish Marquart's goal to have 100 percent of Minnesota's children:
• Ready to learn when they enter school by 2020
• Able to read by third grade by 2020
• Graduate from high school ready for career or college by 2027
The success of this bill indicates that education continues to be a top priority for Minnesotans. This was highlighted in our 2013 Rural Pulse survey, where education ranks second as a top concern for Minnesotans, following jobs.
Vernae Hasbargen, Senior Policy Analyst at Minnesota Rural Education Association, sums up the feeling that is conjured by the passing of this bill when she says, "We've come a long way."
To learn more about how Blandin Foundation is invested in education in rural Minnesota, click here.
Sign Up for E-News
Subscribe to our periodic newsletter for updates and opportunities about vibrant rural Minnesota.