Image: Blog hero Plant Plate 09 boys dig in
GroundWork
News and ideas you can use to strengthen rural Minnesota communities.
Blandin Foundation Board Tours Food Bank
by Blandin Foundation Posted in Blandin Foundation, Grants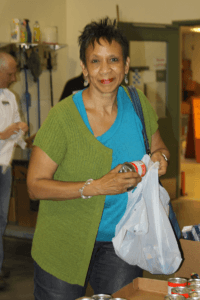 Hunger is intangible. You can't see, hear or touch it, but it's all around us. Yesterday, members of Blandin Foundation's Board of Trustees learned how hunger can impact the health and vitality of a community while touring Second Harvest North Central Food Bank in Grand Rapids, Minnesota.
During the visit, Board members learned that 40% of those served at the Food Bank are children, 61% have incomes below the federal poverty level and 2% are homeless. Many families in Itasca County and beyond are faced with the difficult choice between food and other necessities like a home, car or medicine.
The Food Bank helps make that choice easier by acting as the link between food donors and people in need. With just 11 staff members, and over 700 volunteers, Second Harvest feeds over 182,000 individuals per year.
Trustees pitched-in to help one of the most vulnerable hungry populations – children.  To guarantee children are well-fed during the summer, Second Harvest volunteers are distributing over 3,800 Kids Packs each month throughout the seven counties of north central Minnesota. Check out this recent MPR Ground Level blog for more on childhood hunger during summer.
Second Harvest strengthens rural resiliency by connecting passionate volunteers to those in-need. By having access to quality food resources, our fellow community members can contribute more fully to the vibrancy of our region.
Thanks to Second Harvest North Central Food Bank for hosting us!
Sign Up for E-News
Subscribe to our periodic newsletter for updates and opportunities about vibrant rural Minnesota.