Image: Blog hero Plant Plate 09 boys dig in
GroundWork
News and ideas you can use to strengthen rural Minnesota communities.
Broadband: stringing lives together through music
by Blandin Foundation Posted in Broadband, Grants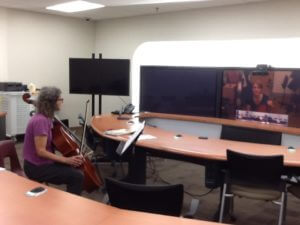 From the fumbling fingertips of a young novice to the silky strokes of a proficient, a musician's dancing notes have the power to connect people, especially in rural places.
The Itasca Orchestra Strings Program (IOSP) has been linking lives through music for 32 years. Early on, IOSP partnered with the Itasca Area Schools Collaborative (IASC) to expand music opportunities for students of all ages and, thanks to their existing partnership, today's opportunities are growing.
The latest opportunity came in the form of a $50,000 Blandin Foundation Broadband Communities Program grant to create a partnership between IOSP, IASC and MacPhail Center for Music, a leading community music education organization in Minneapolis, Minnesota. Funding will assist MacPhail in bringing their musical education expertise to rural Itasca area students and instructors through telepresence technology.
Kathy Dodge, IOSP executive director, was first in line to be a virtual student.
"MacPhail has really been a significant musical force in the Minneapolis area for years, and now we can plug into their expertise in greater Minnesota," said Dodge. "For our community, technology and long-distance learning has made this a great opportunity for teachers and students."
Using high-speed Internet technology, Itasca area K-12 students will have access to world-class music education through two-way audio/video, offering real-time online learning. Area music instructors also will have the opportunity to brush-up on their education through one-on-one sessions with MacPhail mentors.
In her very first lesson, Dodge was amazed with the quality of instruction.
"I learned to look at a piece I had been working on in a whole new way thanks to my time with my MacPhail instructor," said Dodge. "They're like the Julliard of community music centers. What they will be able to do in our community will be incredible."
Across rural Minnesota, technology is breaking down geographic barriers to quality healthcare, education, economic development, etc. Quality arts opportunities contributes to the quality of life in a community and have the potential to be a strong economic driver, says Dodge.
"Families want to move to places where a mom can be in a play and her kids can take up the violin or another instrument. The arts contribute to the vibrancy of a rural community because it makes a community whole."
Starting fall 2013, students will have access to MacPhail instructors via telepresence. For more information, contact Kathy Dodge at (218) 327-5781.
Do rural Minnesotans agree that the arts are important for local economy and quality of life? See what Rural Pulse says about the arts.
Sign Up for E-News
Subscribe to our periodic newsletter for updates and opportunities about vibrant rural Minnesota.