Image: Blog hero Plant Plate 09 boys dig in
GroundWork
News and ideas you can use to strengthen rural Minnesota communities.
The economy is improving – so why doesn't it feel like it?
by Blandin Foundation Posted in Vibrant Rural
By Jane E. Tigan, Minnesota Compass
Rural Minnesotans believe that access to high-quality jobs is the most important issue facing their communities, and that not enough is being done to make that happen, according to the Rural Pulse survey.  This perception presents major challenges for community and business leaders, especially since Greater Minnesota has more jobs on payrolls today than ever before.
So why doesn't it feel like it? First let's talk about the jobs numbers.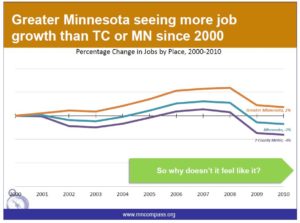 From 2000 to 2012, the state of Minnesota gained 36,000 jobs—about a 1 percent increase. There were some good times of job growth in the middle of that, but due to the Great Recession it was ultimately a wash for the state. The Twin Cities actually lost jobs. And Greater Minnesota? During that same time, Greater Minnesota (defined here as all areas outside the seven-county metro) saw a net gain of 48,317 jobs—a 5 percent increase. Business establishments increased by 18 percent during those 12 years.
So, why is there a disconnect between the real increase in jobs and the perception that rural communities are not attracting job? Well, the change in the number of jobs doesn't tell us the type of jobs (full or part time), if the jobs are high quality, or even if the jobs are located where people want to live.
There are a lot of reasons why there has been net job gain, and yet residents are feeling it's a critical moment for job attraction.  For one thing, the number of farm jobs—those that a lot of rural Minnesotans might have depended on in the past—declined by 17 percent in the last decade.  That's a big identity shift. What's more, the impact of more jobs isn't trickling down to the individual as much or as quickly as most of us would probably like to see. Here are three measures (all available on Minnesota Compass) that help us understand more the feeling about the economy overall:
Fewer adults are working: In 2000, 77 percent of greater Minnesota adults (16-64) were employed; today it's down to 74 percent. Relatively speaking, it's still a high share, but it indicates that unemployed, discouraged, or new workers have been unable to find jobs. (The measure includes all adults who are not incarcerated or in the armed services, not just those in the labor force.) Just 62 percent of adults of color in Greater Minnesota are employed, and the statistic is particularly low for U.S.-born black adults: fewer than half are working (44%).
Incomes are down: From 1990 to 2000, Greater Minnesota saw incomes increase by more than $8,500—nearly 20 percent. But a decade later, about half of those gains have eroded. In 2011, the median household income in Greater Minnesota was about $50,000—a net gain of $4,621 since 1990 (all adjusted for inflation). That translates into just $231 per year over those 20 years (10 percent increase). To put things in perspective, during that same time nationwide gas prices increased 125 percent.
More people in poverty, especially kids: Today, Greater Minnesota poverty rates look more and more like 1990, when 12.5 percent of individuals lived below the poverty line. In 2011,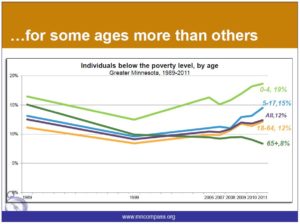 with the rate at 12.4 percent, nearly 95,000 more Greater Minnesotans are in poverty than in 2000. What's more, children in Greater Minnesota are the most likely to be in poverty than any other age category. In fact, nearly 1 in 5 of our youngest (those under 5 years) is in poverty, up from 1 in 8 in 2000. There's been a similar increase for school-age children, too.
So what is the take-away? Well for one thing, an increase in the number of jobs doesn't mean prosperity for all: jobs need to be good-paying and stable to allay people's fears about the economy.  Moreover, conversations about jobs and the economy need to be informed by a variety of measures, not just the plus or minus of jobs.
Visit Minnesota Compass for more information on the economy (including jobs), workforce, and demographic trends in Greater Minnesota.
Continue the conversation by posting your reactions below.
Outposts guest blogger Jane E. Tigan is a Research Associate at Minnesota Compass where she analyzes data and related information to understand and communicate trends in Minnesota.
Sign Up for E-News
Subscribe to our periodic newsletter for updates and opportunities about vibrant rural Minnesota.