Image: Blog hero Plant Plate 09 boys dig in
GroundWork
News and ideas you can use to strengthen rural Minnesota communities.
Second Harvest Builds Community Bridges to End Hunger
by Blandin Foundation Posted in Grants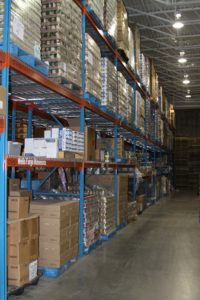 Michelle waits with her two children at the front door of the Second Harvest North Central Food Bank as the clock ticks towards 11 a.m. She explains to me that summer is usually a time for fun and sun, but for parents who rely on subsidized school lunches for their children, summer can bring unexpected challenges.
"It's tough when our kids are not in school because they get lunch there," she says. "I'm here now because my family needs food and we would be super short if it wasn't for the Food Shelf."
Second Harvest is committed to engaging the community to end hunger in their seven-county service area. With the help of over 500 regular volunteers and 11 full-time employees, they have served 135 agencies and administered programs that distribute more than four million pounds of donated and purchased food and grocery products directly to low-income individuals and to nonprofit agencies that serve the needy.
With their Summer Food Service Programs, Second Harvest fills the child hunger gap that balloons during the summer months.
But child hunger doesn't stop when school begins. In 2011, 40 percent of those seeking food assistance were families with children under 18. Children make up a significant portion of our community members who are food insecure, but others who are at-risk include the elderly (9%) and people in poor health (30%).
Overwhelmed by medical bills and costly prescriptions, LaVonne is one of the estimated 28,700 different people served every year by the Food Shelf.
"My husband and I have been at the point where we have had to share one meal," says LaVonne. "It's horribly hard and Second Harvest helps us put quality food on the table."
Blandin Foundation has been partnering with Second Harvest to end hunger since the early 1990s in the form of
35 grants totaling $1.5 million
107 matching grants totaling $56,230
Second Harvest builds bridges between area foundations, committed volunteers and donors, and those in need of food resources. Through these connections, our rural communities are more healthy and vibrant.
Learn more Second Harvest North Central Food Bank by visiting their website at http://secondharvestncfb.com/.
Sign Up for E-News
Subscribe to our periodic newsletter for updates and opportunities about vibrant rural Minnesota.