Image: Blog hero Plant Plate 09 boys dig in
GroundWork
News and ideas you can use to strengthen rural Minnesota communities.
Raising a legacy of hope in Chibaawaating
by Blandin Foundation Posted in Rural Capacity Building, Vibrant Rural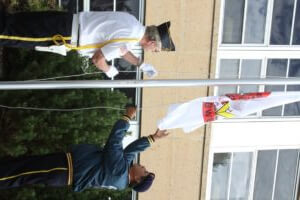 With the gentle play of rope, guided by two veterans, a flag caught the September morning breeze and began flying proudly at the Itasca County courthouse. Its colors – red and white, black and yellow – were illuminated in the crisp sunshine, signaling to those who watched its ascent, and those who will enter the building and the community from now on, a commitment to strengthen a longstanding relationship.
Hundreds of students, business owners, workers, public officials and community members gathered on the courthouse lawn – and later at the chamber of commerce — on September 12 to watch the Leech Lake Band of Ojibwe flag-raising ceremony. The crowd witnessed "a visible commitment that Grand Rapids be a welcoming place for all peoples, of all ages, to live, visit, attend school, work and shop," said Bud Stone, Grand Rapids Area Chamber of Commerce president. "This is a next step in building bridges from our shared past to our shared future."
The shared past of the Leech Lake Band of Ojibwe and the community of Grand Rapids spans generations. Tribal historian Larry Aitken told the crowd that ancestors of today's LLBO members named the location "Chibaawaating," the place of big rapids.
Organized by Circles of Healing, a local group working to build cross-cultural understanding, the event built on a "Legacy of Hope," the theme for a 2008 flag ceremony that installed the LLBO flag in Itasca County courtrooms when a joint powers agreement was signed between the Leech Lake Tribal Court and the District Court of the 9th Judicial District in Itasca County to exercise jurisdiction simultaneously.
While honoring and acknowledging the past, the ceremony also celebrated hope for the future.
"Let the flags fly together as a reminder that we will be partners in our community to offer hope and goodwill among our peoples. We must learn to trust each other as we gather together on this day, so fly on flags of friendship, and stand together as good neighbors. Smile and shake hands in front of our communities to express our brotherhood today," said Aitken.
"Today, we bring the Leech Lake Flag beyond the courts, to the community," said Judge Korey Wahwassuck of the 9th Judicial District, and Leech Lake band member. "Take this time to look around you. Take this time to remember that through getting to know one another, understanding and change are possible. Remember the words of the elder who said, 'That is what I meant by putting a new memory in the minds of our children. We have to get to the point where we stop talking in anger. We have to put ourselves in the position to tell stories about freedom, success, love, safety, and the kind of future we want to have.' Remember today, tell the story of today, know that all things are possible when we believe, when we put aside our differences and work together for a better world."
As an organization that's been in the hope business for more than 70 years, Blandin Foundation views this ceremony as a strong signal that our home community has a vision of being a safe, nurturing, welcoming place for all who live and work, shop and visit here. And, that there are leaders here who trust and respect each other, and come together to work across difference to tackle tough issues. That's vibrant. Rural. Community.
For more on the flag raising, visit Red Lake Nation News, and hear an interview with Robbie Howe, LLBO District I representative, and Korey Wahwassuck on KAXE radio, and an interview with Korey and Bud Stone on ICTV .
Sign Up for E-News
Subscribe to our periodic newsletter for updates and opportunities about vibrant rural Minnesota.