Image: Blog hero Plant Plate 09 boys dig in
GroundWork
News and ideas you can use to strengthen rural Minnesota communities.
PCs for People: tech elves delivering holiday cheer
by Blandin Foundation Posted in Broadband, Grants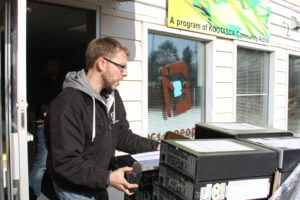 Santa's sleigh came early this year.
Sam Drong and the PCs for People crew have been traveling across rural Minnesota this fall with computers for low-income people. More than 500 monitors, computers and keyboards have been donated and refurbished, ready for low-cost purchase and use though a Blandin Foundation Broadband Communities grant.
Kanabec (County) Broadband Initiative, Mille Lacs County, Mille Lacs Band of Ojibwe, Lake County, Fond du Lac Reservation, Lac qui Parle Valley School District, Lake of the Woods County and Itasca County all have participated in this PCs for People distribution.  To be eligible to purchase equipment through PCs for People, recipients must be enrolled in a government assistance program or have an income below 175% of the Federal Poverty Income Guidelines.
"It's easy to take for granted having Google in your house all the time," explains Sam Drong, who leads the effort for PCs for People. "Refurbished computers allow low-income people to have tools they need when doing homework, applying for jobs, navigating health care, communicating with supportive services, as well as many other everyday needs."
In other words, giving folks a hand across the digital divide. As Jack Geller, former professor and researcher at University of Minnesota Crookston, noted at a Blandin broadband conference, "Social and economic barriers really represent the digital divide more than geographic factors."  (Geller's assessment of the ways the recently completed Minnesota Intelligent Rural Communities initiative helped bridge that divide can be found here.)
Dave Peters, a journalist for Minnesota Public Radio, has followed broadband in rural Minnesota closely in MPR's Ground Level blog.  Peters writes, "It's easy to forget, as we get wrapped in enthusiasm and argument over each new wave of phone, tablet and transmission technology and as we wave our arms in wonder over the revolution in thinking and interacting that technology brings, that there are people being passed by who don't want to be and who shouldn't be."
Sign Up for E-News
Subscribe to our periodic newsletter for updates and opportunities about vibrant rural Minnesota.