Image: Blog hero Plant Plate 09 boys dig in
GroundWork
News and ideas you can use to strengthen rural Minnesota communities.
Putting an Equity & Opportunity Lens on Community Development
by Blandin Foundation Posted in Blandin Foundation, Tools You Can Use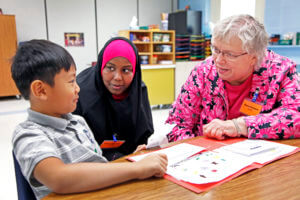 Today we welcome Janet Borth, Director of HR/Board Services. Janet recently attended the Minnesota Council of Nonprofits 2013 Annual Conference. Here she shares her observations on one of the sessions she attended.
Stale, stagnant and stuck…three reasons to reframe the race conversation in community development work, said presenters at the Minnesota Council of Nonprofits 2013 Annual Conference I attended last week.
Gary Cunningham, vice president of Northwest Area Foundation, posed the question: What is philanthropy's role? How about nonprofits? Or government? And don't forget communities themselves. We have "wicked problems," such as the achievement gap in education, that will require multi-pronged approaches aimed at systems change, he said.
So, how do we do this? Marcia Avner (University of Minnesota Duluth) and Romila Justilien (Northwest Area Foundation Fellow) joined Gary to share some thoughts:
Take a step back. We're confusing strategies with goals. The conversation is stuck on ways to accomplish inclusion. Instead, the conversation needs to be reframed to focus on universal goals. Once goals are at the forefront, expect there will be different ways to achieve those goals.
Help spur conversations. Communities of color will be stronger by developing networks and relationships, putting the focus on the universal goal. The main message: reframing has to begin with you – so start the conversation.
Create mutually beneficial relationships. Work with others who are striving to achieve the same universal goal. The more voices, the better.
Organize around networks and data. It's difficult for a community of color to work with others if they don't have their own act together. Utilize data as a touch point to gather around and invite those who will be impacted to the table – from the beginning. For example, nonprofit activists and the Metropolitan Council in the Twin Cities are using "opportunity mapping," research and community input to shape regional planning and investment strategies to target the unique needs of specific communities.
Some of the questions I came home with: How are rural Minnesota communities working to increase equity and opportunity? How are changing demographics impacting our rural Minnesota communities? What multi-pronged strategies might rural communities adopt to increase opportunities for all citizens?
What do you think? Blandin Foundation wants to hear from you. Share your thoughts below!
Sign Up for E-News
Subscribe to our periodic newsletter for updates and opportunities about vibrant rural Minnesota.