Image: Blog hero Plant Plate 09 boys dig in
GroundWork
News and ideas you can use to strengthen rural Minnesota communities.
Foundation trustees travel back to Blandin's roots
by Blandin Foundation Posted in Blandin Foundation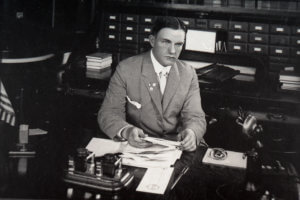 Yesterday Blandin Foundation trustees took a stroll across the street to visit the new home of the Itasca County Historical Society (ICHS). As they winded their way through the various historical touch points of the past, they collided with the man who secured our organization's future. Charles Blandin's stately desk rests below an image that hearkens back to a time when from that desk came decisions that would forever shape our home community of Grand Rapids (pictured).
ICHS's recent move has enabled them to expand their exhibit space and genealogy and history research center, which is used by 8,000 annual visitors. In addition to the museum, ICHS has also developed more than 30 traveling exhibits that are used in communities throughout Itasca County.
Currently, ICHS is showcasing four local hockey players who have achieved extraordinary levels of success – from playing in the National Hockey League, to the U.S.A. Olympic team. Their next exhibit will feature great cooks throughout the history of Itasca County.
For more on ICHS, visit their website.
Sign Up for E-News
Subscribe to our periodic newsletter for updates and opportunities about vibrant rural Minnesota.