Image: Blog hero Plant Plate 09 boys dig in
GroundWork
News and ideas you can use to strengthen rural Minnesota communities.
Pipestone Businesses Stand Behind Community Leaders
by Blandin Foundation Posted in Rural Capacity Building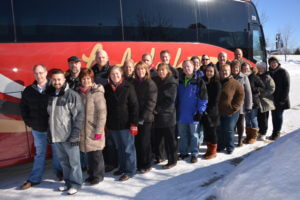 "When we talked about the expense of it because of the distance (BCLP retreats are held in Grand Rapids, Minn.), we weren't sure if we could pull it off," said Dawn Heidebrink, Pipestone BCLP cohort member. "Leave it to two of our grand leaders (Dale Roemmich and Kevin Paulsen) to get it done. From my understanding in 30 minutes we had $3,500. It was wonderful. That means we have a community behind us."
With the help from seven local businesses (First Farmers & Merchants, First Bank and Trust, Subway, Pipestone Publishing, Pipestone Veterinary Clinic, Pipestone Area Foundation, Pipestone Forward), Pipestone leaders were able to secure enough funding for a bus.
"Our businesses are always there, ready to step up. That's how much they believe in the community," said Kevin Paulson.
As the twenty-two Pipestone community members rolled along highways through rural Minnesota's prairies and woodlands, the camaraderie between them began to build.
"What energized me the most was getting to know them as people and allowing them the opportunity to know me beyond my role in the community," said Debra Fitzgerald, editor of the Pipestone County Star. "You need to create that synergy among people in a community where they feel like they can trust each other and know each other in order to get things done. I felt more a part of Pipestone having had that experience."
As the retreat kicked into full swing, cohort members embarked on training to identify and describe community issues and opportunities, build social capital, manage interpersonal conflict, understand community power, mobilize community resources, and set goals.
Most importantly, the training taught Pipestone community leaders to band together to inspire, and implement, change.
"Effective teams, whether it's military or sports teams, the ones that are highly successful have this trust of knowing where everyone's going to be and what everyone's thinking," said Kyle Caskey. "We didn't have that until we came together here as a group and were able to establish those bonds and connections with one another so we trust each other to get things done and make progress happen."
Heidebrink summed up the feelings of the cohort: "It's going to be so rewarding. I just can't wait to get back home and use the skills we learned."
)
Sign Up for E-News
Subscribe to our periodic newsletter for updates and opportunities about vibrant rural Minnesota.