Image: Blog hero Plant Plate 09 boys dig in
GroundWork
News and ideas you can use to strengthen rural Minnesota communities.
Communities come together to imagine a resilient rural region
by Blandin Foundation Posted in Grants, Vibrant Rural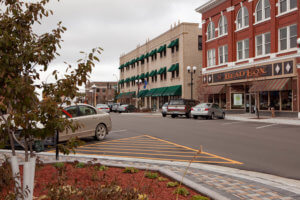 "Without leaps of imagination or dreaming, we lose the excitement of possibilities. Dreaming, after all, is a form of planning." – Gloria Steinem
At the 2014 Center for Small Towns Symposium, rural sociologist Randy Cantrell said that, more than anything, people who make the move to rural want to see that their community has a vision for the future. Only healthy communities can dream of what's possible for the future, right?
Together, a cluster of communities in central Minnesota dared to dream and that dream is making rural Minnesota do a double take.

Minnesota's Region Five is home to Cass, Morrison, Crow Wing, Todd and Wadena Counties. Together, with the Region Five Development Commission at the helm, they embarked on a planning process to bring their region vibrancy now and into the foreseeable future.
This was three years ago. Today, after months of planning, more than 600 people's input, and a condensed 58-page regional plan put into play, Region 5 has dubbed themselves the "Resilient Region."
"A resilient region is somewhere that is diverse in its strengths," says Region Five Development Commission Executive Director Cheryal Lee Hills. "We created a plan that was relevant to our region and a collection of projects that cross-pollinate to add to the quality of life in rural."
While presenting at the CST Symposium, they featured their local foods initiative as a prime example of the cross-pollination of community projects found in the plan. After a few years of conversation with local food producers and potential consumers of locally-grown foods (restaurants, hospitals, schools, etc.), the Resilient Region Champions are collectively working to develop a local food value-added processing facility that also has a demonstration kitchen and an indoor winter farmers market…. in an area of the region where space is available as a result of the recession. The new way of doing business as a result of the Resilient Region plan has help our Champions consider roles for our art community, health care partners and nutrition educators such as UofM Extension and County public health professionals. Additional micro-loans to ag-based businesses have been awarded to meet the increased demand. Success!
As the communities move forward with the Resilient Region Plan, 44 Resilient Region Champions, or community members, have been chosen to keep their finger on the pulse of a given community theme (themes coincide with community projects – examples being housing, connectivity, transportation, health care, etc.). Champions will help to keep the region's energy levels high as they enter into the second year of the plan. With the sustained level of community involvement thus far, it shouldn't be a difficult role to fill.
"People keep engaged because the plan is helping them do the work they already need to do better," said Hills. "We're now going back to our small towns and asking them about their dreams. We keep adapting the plan as we learn more about what people want to see in the future."
With permission and encouragement to dream for the future, the Resilient Region is excited to watch what they once coined as possibilities become reality.
To learn more about the history and successes of the Resilient Region Plan, click here.
Blandin Foundation awarded the Resilient Region Champions an $8,000 grant to develop a telehealth program. Read about the project here.
Sign Up for E-News
Subscribe to our periodic newsletter for updates and opportunities about vibrant rural Minnesota.