Image: Blog hero Plant Plate 09 boys dig in
GroundWork
News and ideas you can use to strengthen rural Minnesota communities.
Minnesota Council of Nonprofits expands presence in Greater MN
by Blandin Foundation Posted in Grants, Rural Capacity Building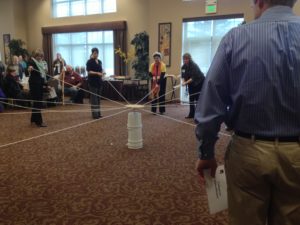 Leaders are at their strongest when they're connected. We've learned, by engaging with our network of over 6,000 leadership alumni, how great things happen when people take the time to share knowledge, expertise and plans.
This is especially true for rural nonprofit leaders. Every nonprofit brings a unique understanding of the challenges facing today's rural communities. When they come together, they can improve services, share costs and gain a better sense of what's needed for a whole, healthy community.
Minnesota Council of Nonprofits (MCN) gets this, and for the past 15 years they've been connecting nonprofits to training, to sector-specific information, and to each other. In recent years, they've focused on expanding their presence in Greater Minnesota.
"Minnesota has one of the most robust and varied nonprofit sectors in the country, and that is true from rural counties to large cities," says MCN executive director Jon Pratt. "While the cities have historically had more resources and assistance available for people involved in nonprofits, organizations in other parts of the state have similar interests in developing their governance, funding, government partnerships and human resources."
MCN currently has chapters in northeast, central and southwest Minnesota where they have 544 members. In 2013, members got connected to knowledge and resources by attending any of 45-plus MCN events.
The value that nonprofits place on these events is apparent in the rise in memberships (282 percent over 15 years in Greater Minnesota). However, a significant part of the state remains without a chapter. This is a barrier for rural nonprofits looking to access capacity-building resources that can advance their ability to achieve their missions.
In part, through $150,000 in Blandin Foundation support, this gap will close over the course of three years as MCN establishs two additional chapters in southeast and northwest Minnesota.
"As the Minnesota Council of Nonprofits has increased activities outside the Twin Cities, we learned that proximity counts for a lot," says Pratt. "With support from the Blandin Foundation, MCN will now, for the first time, be able to have a permanent presence and point of contact in every part of Minnesota. We are thrilled to be establishing a regional office in Rochester this fall, and doing the same in Northwest Minnesota after the first of the year in 2015. MCN staff and board members will be holding a series of meetings with nonprofit leaders in each region to identify priorities and plan activities for the coming year, with more to come."
Stay updated on MCN's plan to develop chapters in southeast and northwest Minnesota by following them on Facebook.
Sign Up for E-News
Subscribe to our periodic newsletter for updates and opportunities about vibrant rural Minnesota.