Image: Blog hero Plant Plate 09 boys dig in
GroundWork
News and ideas you can use to strengthen rural Minnesota communities.
Tatanka Bluffs: creating vibrant communities through collaboration
by Blandin Foundation Posted in Rural Capacity Building, Vibrant Rural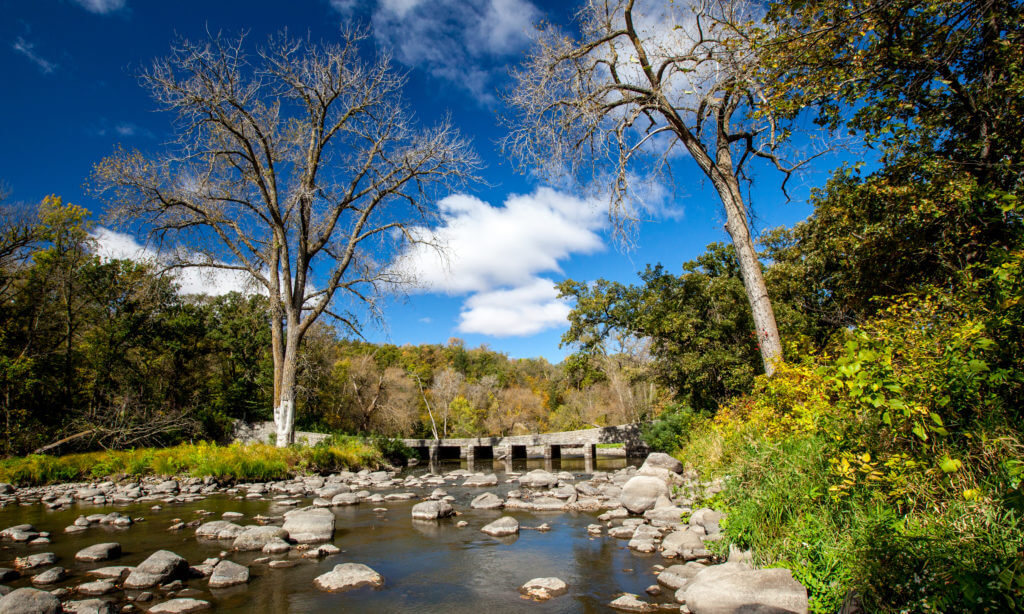 As the Minnesota River surges south to join the Mississippi River, it dances between the bluffs of Renville and Redwood counties. Standing atop a lush emerald hill, you can see how the swirling stream of water stitches the shores together –connecting the two counties.
Beyond the whooshing waters, for years the two counties remained detached, each having a different vision for the future of their region.
"It just didn't make sense," says Redwood resident and Blandin Community Leadership Program 1998 (BCLP) alumnus Loran Kaardal. "[In Redwood] we tried expanding the industrial park and doing more traditional types of economic development, but chasing smokestacks was a losing proposition for us. And we didn't have the money to compete with our neighbors. We needed to collaborate."
So in 2007, a group of seven BCLP alumni, along with other area leaders from Redwood and Renville, set out to identify collaboration opportunities. They started by mapping the assets of the area. They found that it wasn't a particular community in either county that had "star quality," but rather that the Minnesota River corridor that divided them offered potential for bringing them together.
"The recreational potential of the corridor is immense," says Julie Rath, Economic Development Specialist at Redwood Area Development Corporation and 2001 BCLP alum. "What's even more unusual about the corridor is that between two state parks are five Renville County parks. That's 50 miles of trails with more than seven camping destinations. Of all the hiking and biking trails out there, I don't think there's one that has the same level of connectivity as this one."
With the joint dream of a thriving, connected region, the Green Corridor Initiative was born. Featuring unique geology and miles of pristine wilderness, the intent of the initiative is to acquire, restore, preserve and develop the available resources so the Corridor transforms into a premier recreation destination for travelers throughout the Upper Midwest.
Legacy Funding from the State of Minnesota supercharged their efforts as they began to clean up, beautify and connect the different parts of the Corridor.  Now only six gaps stand in the way of a fully linked trail system.
Increased attention and growing popularity of the Corridor has spurred more community members – from both counties – to get involved.
"It's almost like watching the spring thaw," says Kaardahl. "The concept of a larger, spatial community is gaining recognition. We're now in this together."
"We now see ourselves as 26 neighborhoods in one community, only separated by corn fields," says Rath.
Sign Up for E-News
Subscribe to our periodic newsletter for updates and opportunities about vibrant rural Minnesota.