Image: Blog hero Plant Plate 09 boys dig in
GroundWork
News and ideas you can use to strengthen rural Minnesota communities.
Who's in rural's corner at Blandin Foundation?
by Blandin Foundation Posted in Blandin Foundation
In the words of rural Minnesota native Bob Dylan,  times they are a-changin' at Blandin Foundation. In just a few short months, we've said goodbye to cherished, long-time colleagues and we've also welcomed new talent. Here's an update on who's in rural's corner at the Blandin Foundation.
Mary Kosak retires
After 18 years of commitment to the work of the Blandin Foundation, grants program officer Mary Kosak  retired. Mary began working with the foundation in 1998 as a consultant to the Children First! Initiative, which she helped design and  carry out with a group of dedicated community leaders who wished to respond to our community's need for early education.
Five years later, Mary joined our full time staff and for the last eleven years, she has worked as a grants officer, concentrating mainly on education and youth grants — again, with particular interest and attention to creating systems that support at-risk children and families.
She has been one of a dedicated group of local leaders behind the success of the Invest Early initiative, an area-wide initiative that provides support for at-risk children and families so that children enter kindergarten ready to learn and thrive.
We will miss Mary's spirit greatly around here. We will miss her positive and contagious mood, her energy to always show up and pitch in outside of work, and last but not least her unmatched passion for the success of the state's littlest learners.
Gary Rosato retires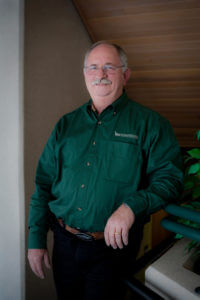 Since 1993, Gary Rosato has been a dedicated staff member of the Foundation. Gary led the building, grounds and hospitality team and provided a welcoming, safe and clean environment here at the Foundation.
Many changes have occurred during Gary's time with the Foundation and he was instrumental in initiating, implementing or maintaining them. Here are a few highlights:
In 1999, Gary oversaw the construction of the Foundation's third floor.
Gary led internal infrastructure improvements needed because of information technology changes.
Gary updated the building by going green and saving energy as new and improved technology became available.
Gary maintained the beautiful green space located across the river known as River Park.
We will miss Gary's smiles and sense of humor, his Foundation-first values and his real-life experiences which he shared every day.
Thank you for your 21 years of service!
Kyle Erickson joins Blandin Foundation
This month, Kyle Erickson joined Blandin Foundation as a grants program officer. In his new role, Kyle will join the Foundation's efforts to develop and support relationships with organizations strengthening rural Minnesota communities, especially those that align with the Foundation's strategic priorities of a vibrant Itasca County area, investing in community leadership and expanding opportunities.
Kyle earned a degree in secondary education from Crown College and holds a Certificate in Fundraising Management from Indiana University Center on Philanthropy. Prior to joining the Foundation, Kyle served as the director of institutional advancement at Leech Lake Tribal College.
To get to know Kyle better, we asked him a few fun questions:
What can't you live without?
Well, I suppose that I could live without fishing, but I'd rather not. Being on the water is my primary form of recreation/therapy.
What is your proudest moment?
After six years of advocacy work, last year I was finally able to help push a bill through the Minnesota legislature to provide state funding for Minnesota's tribal colleges. It was so rewarding to be part of a process creating long-overdue legislation.
What do you love most about your job so far?
I grew up in a poor community where people too often focused on community problems. I'm so excited to be a part of the Foundation's work that is focused on developing solutions to create stronger communities and greater opportunity in rural Minnesota.
What does a vibrant rural community look like to you?
Short lines at the food shelf and long lines at the stores — all people's basic needs being met, allowing communities to focus time and energy on growth.
There you go! Now you're all caught up on who's in your corner at the Blandin Foundation.
Sign Up for E-News
Subscribe to our periodic newsletter for updates and opportunities about vibrant rural Minnesota.