Image: Blog hero Plant Plate 09 boys dig in
GroundWork
News and ideas you can use to strengthen rural Minnesota communities.
Connect Itasca seeks to build the case for broadband expansion
by Blandin Foundation Posted in Broadband, Rural Capacity Building, Vibrant Rural
A small rural clinic closes. A home buyer chooses to look elsewhere. A teacher can't teach.
While these situations seem unrelated and strangely paired, they all have one common denominator — broadband.
Not what you expected? Here's the skinny behind the stories:
The Bigfork, Minnesota clinic, a satellite of Essentia, can't upload patient files because broadband connectivity is spotty at best. Therefore, they can't provide the services needed by the community.
A Grand Rapids-based real estate agent shows a cabin to a perspective buyer who asks, "Is there broadband available?" Once the "no" is heard, the buyer moves on.
A teacher in Balsam Township teaches online courses for a local community college. He doesn't have the bandwidth to video conference with his students or view any online media produced by his students, severely limiting his ability to teach the way he deems most effective.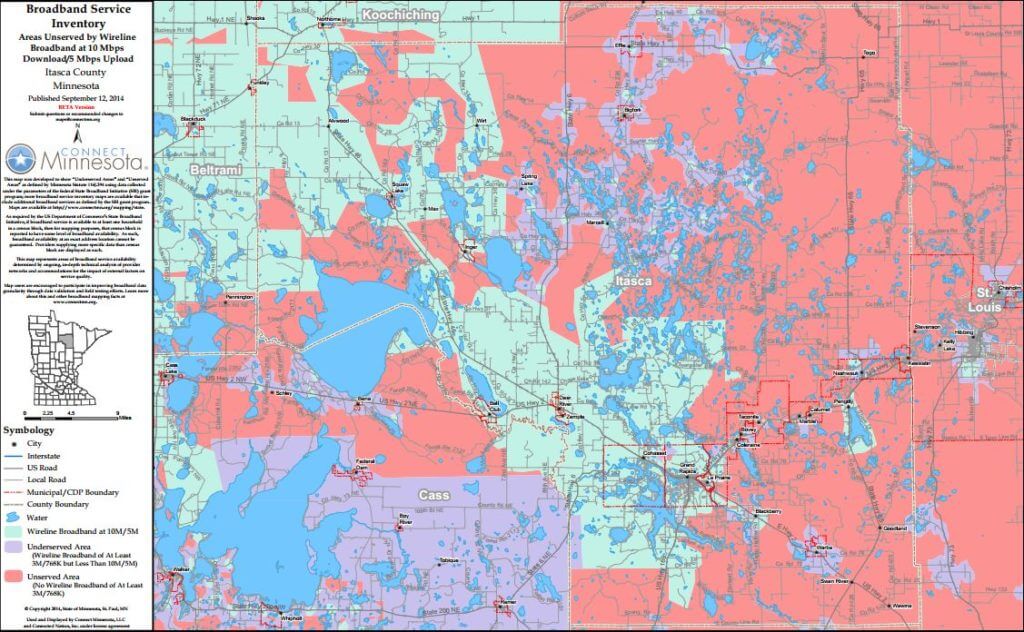 "It's the stories we've heard of people struggling, struggling to do homework, to manage their home business, to access the information they want to online," said Itasca County administrator Trish Klein. "That's what motivated us to start Connect Itasca."
Connect Itasca is an initiative, facilitated by Itasca County, to gather quality information and facilitate partnerships to stimulate investment in broadband networks that reach throughout Itasca County.
Information is being collected through an online and print survey to identify specific areas where people lack the broadband service they desire.
"Our hope is to identify the areas of need and to partner with existing providers to justify expanding existing service areas," said Klein.
Expanded service equals expanded opportunity – for existing and new businesses, residents, students, etc. Research shows that 30- to 50-year-olds are choosing to move to rural, but they expect a solid broadband connection to be part of the relocation package.
University of Minnesota Extension sociologist Ben Winchester says, "People almost expect to have [broadband internet]. They're surprised not to have it. It's not something people search and hunt for; it's something they expect to be there."
"Five years ago you might be able to get by without having adequate broadband but the world has changed," said Klein. "The timing is right — for our community, for the state, for the country. We can bring our government, funding and technology partners to the table and leverage the commitment of our champions (description below) to connect Itasca."
Survey data is being collected through October 31, 2014. If you live in Itasca County, you can take the survey here. It will take about 5 minutes. For up-to-date information about Connect Itasca, follow their Facebook page.
How can you help?
Consider being a champion. A Connect Itasca Champion is a volunteer who commits to spreading the word about the Connect Itasca initiative. A champion should have a passion for the goals of connecting all Itascans. They commit to telling friend and neighbors about the importance of the survey and potentially answering questions submitted through the website. To be a Champion, contact Trish Klein at 218-327-7359 or trish.klein@co.itasca.mn.us.
Sign Up for E-News
Subscribe to our periodic newsletter for updates and opportunities about vibrant rural Minnesota.