Image: Blog hero Plant Plate 09 boys dig in
GroundWork
News and ideas you can use to strengthen rural Minnesota communities.
Forging a path for Itasca County's future through conversation at first-ever Community Cafe
by Blandin Foundation Posted in Rural Capacity Building
Itasca County educators, government, artists, law enforcement, business owners, environmentalists, social services providers and more gathered together on Tuesday to answer the question: What is the future we want to live in to? Participating in three 20-minute conversations, some over-arching themes surfaced:
Care enough to ask for one anothers' stories
Expand Art of Hosting in our community
MORE inclusive conversations
Better resource self-care and networking
Update the area's socio-economic indicators
Be a Good Neighbor and bring a neighbor (to the Grand Gathering on November 22)
Seek out voices of the unheard
The themes that came from yesterday's gathering will inform a Grand Gathering Open Space (more about this gathering technique here) at Grand Rapids High School on November 22, hosted by the Grand Rapids Community Foundation. For more information about the Grand Gathering, contact Jerry Nagel, director of Meadowlark Institute, at jerry@meadowlark.co or 218-532-2585.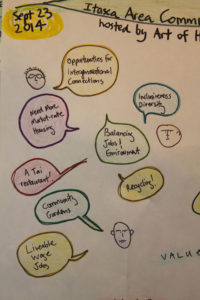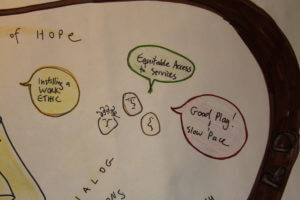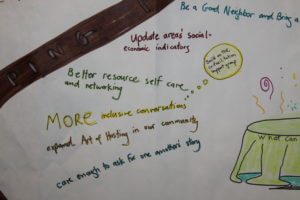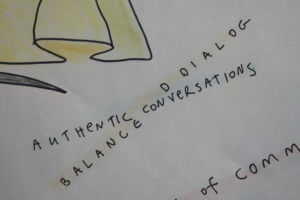 Sign Up for E-News
Subscribe to our periodic newsletter for updates and opportunities about vibrant rural Minnesota.